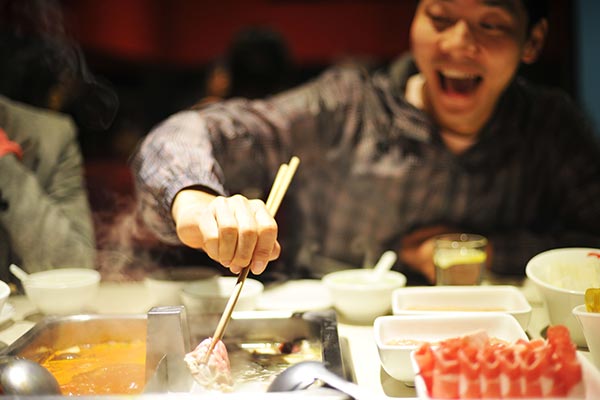 A customer dines at a Haidilao restaurant in Beijing. MAI TIAN / FOR CHINA DAILY
China's largest hotpot chain Sichuan Haidilao Catering Co is planning to list its seasoning spinoff business on the Hong Kong Stock Exchange.
Even though Yihai International Holding Ltd-the spinoff-has not yet announced any details, its prospectus notes that the financing will be used to build its production base in Bazhou in Hebei province, make strategic acquisitions and promote its brand.
At present, Yihai is the exclusive supplier of Haidilao. Information released by the Hong Kong Exchanges and Clearing Ltd shows that Yihai's turnover rose from 316 million yuan ($48.75 million) to 847 million yuan between 2013 and 2015. Its net profit jumped from 22.1 million yuan to 125 million yuan during the same period. In 2015 alone, about 54 percent of Haidilao's income came from Yihai.
By the end of last year, Yihai made 56 products. Its distribution network has covered most parts of China, reaching more than 6,000 stores. With the support of leading e-commerce platforms such as Tmall.com and JD.com, its products are now available in 11 countries and regions in North America, Europe and Asia.
Statistics provided by global market consultancy Frost & Sullivan show that Yihai is the largest mid- to high-end hotpot seasoning provider in China based on sales revenue last year.
Yihai was registered in the Cayman Islands in 2013. Zhang Yong and his wife, the controlling shareholders of Haidilao, also hold the majority 47.76 percent of shares in Yihai.
Interestingly, e-commerce billionaire Jack Ma's name is hidden in the prospectus. Yunfeng Capital, which he jointly founded in 2010, holds 6 percent in Yihai.
Hong Kong, however, is not a sizzling market for mainland hotpot chains. Prior to Haidilao, another leading hotpot chain, Xiabuxiabu, went public in Hong Kong in 2014. With an issuing price of HK$4.7 ($0.6) per share two years ago, Xiabuxiabu closed at HK$4.79 per share on Wednesday. A better known case is Little Sheep Hot Pot, which went private four years after its listing in 2008.
Apart from Hong Kong, a number of restaurant and catering companies also went public on the National Equities Exchange and Quotations, or better known as the New Third Board, in the past few months, such as the century-old Tianjin Goubuli Food Co Ltd.
Jiang Junxian, director of China Cuisine Association expects more capital raisings by Chinese restaurant and catering companies in 2016. The New Third Board, for example, will be a good choice for these companies to meet their financing demands which is usually not very high, he said.
According to the Chinese catering market report 2015 released by China Cuisine Association in late February, the total sales revenue of the Chinese restaurant and catering industry surged 11.7 percent year-on-year to top 3.23 trillion yuan.