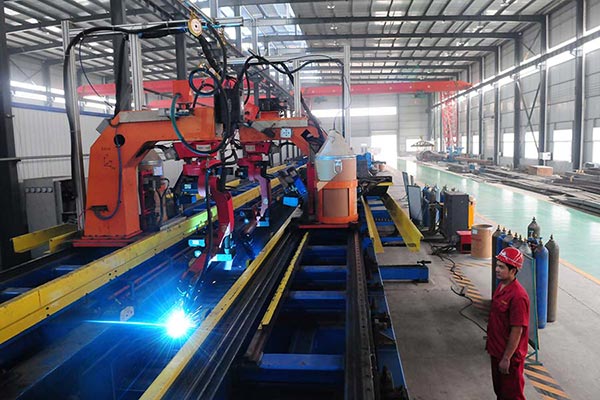 Robots work at an automatic welding production line in Liaocheng, East China's Shandong province, July 5, 2014.[Photo/VCG]
BEIJING - China's State Council passed a plan to better the standards and quality in equipment manufacturing on Wednesday.
The new plan is part of government efforts to deliver the "Made in China 2025" blueprint announced last year, shifting the country away from low-end manufacturing to more value-added production, according to a statement issued after a State Council meeting chaired by Premier Li Keqiang.
The plan calls for accelerating research and development of key technology including robotics, rail equipment, agricultural machinery and high-end medical devices.
By 2020, over 90 percent of the manufacturing standards in key areas should be made in line with global criteria, up from the current 70 percent, according to the plan.
The plan follows China's "Made in China 2025" blueprint in May 2015 to improve manufacturing.
Tasks identified as priorities in the blueprint are innovation, fostering Chinese brands, green manufacturing, integrating technology and industry, internationalizing manufacturing, promoting breakthroughs in key sectors, restructuring of manufacturing, service-oriented manufacturing, and strengthening the industrial base.
Wednesday's meeting also mapped out plans to use the Internet to lower logistics and circulation costs to foster new engines for growth.
Pledged efforts include fostering a "smart logistics system," increasing investments in rural broadband network, building a cloud platform for commercial services and integrating online-offline development.
China's economy expanded 6.9 percent year on year in 2015, the weakest reading in around quarter of a century, and the government is intensifying efforts to replace old growth drivers with new ones to sustain growth.