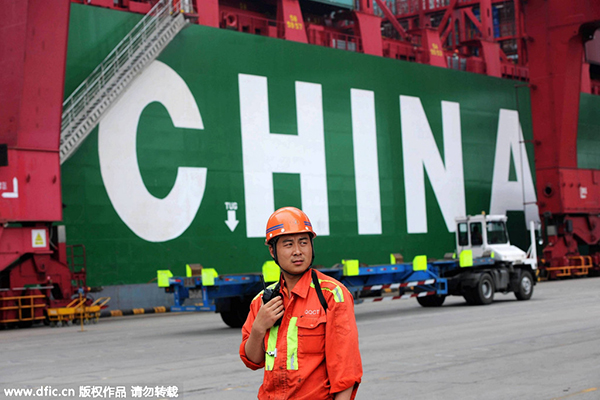 A stevedore works at Qingdao port in Shandong province, July 1, 2015. [Photo/IC]
BEIJING - Despite global concerns about China's financial stability, the country retains significant tools to stave off problems and the risk remains under control, a report released by Bloomberg economists said Wednesday.
The report by Tom Orlik and Fielding Chen cited improvement in the Bloomberg Intelligence Economics' Financial Stability Index, a composite of 10 indicators to capture different risks, as evidence of its conclusion.
The index rose for a third consecutive quarter at the end of 2015, which reflected rising house prices, stabilization in the stock market and ample liquidity.
Other factors, including looser monetary conditions and low inflation, remained negative, but not enough to prevent the overall slight improvement in the index, according to the report.
Looking at the first quarter of 2016, a continued increase in house price signaled the stock market has found a floor, and ebbing capital outflows all suggest the index could register another slight increase, although GDP slowdown, looser monetary conditions, and a further rise in the M2-to-GDP ratio will remain low, the report noted.
"Growth is lower than it was, but an economy growing at close to 7 percent continues to throw off considerable resources," the report said.
China's economy expanded 6.9 percent year on year in 2015, the weakest reading in around a quarter of a century, and continued turbulence in the stock market and yuan depreciation at the start of 2016 have put policymakers to the test.