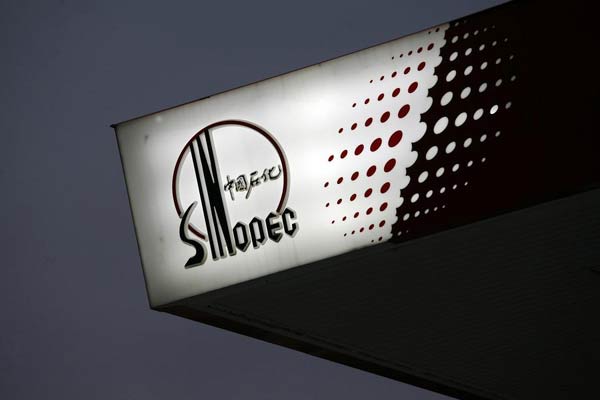 Sinopec's logo is seen at one of its gas stations in Hong Kong in this April 26, 2010 file picture.[Photo/Agencies]
China Petroleum and Chemical Corporation (Sinopec) reached 2.02 trillion yuan in revenues last year, a 28.6 percent drop year on year, according to the company's annual report posted by Securities Daily on Wednesday.
Its net profit which is attributable to shareholders of the parent company reached 32 billion yuan, a 32 percent drop year on year, the basic yield per share was 0.266 yuan, which marked the worst year for Sinopec since 2009.
Sinopec's operating income in exploration and development sector reached 139 billion yuan, a 39.1 percent drop year on year.
Affected by the oil price slump, upstream plates got hit the hardest and lost 17.4 billion yuan. As the company lowered the cost and production volume, the cost of oil and gas per unit fell to 17,62 per barrel, a 4.3 percent decrease year on year.
However, when the low oil price clouds, Sinopec's Oil refining sector and chemical sector achieved 21 billion yuan and 19.7 billion yuan in terms of revenue, they both saw a large growth and became the growth engine for the company.
Under the same market pressure, China National Petroleum Corporation (CNPC) reported its revenue at 1725 billion yuan last year, a 24.4 percent decrease year on year, the worst performance since 1999. China National Offshore Oil Corporation (CNOOC) showed a net profit of 20 billion yuan last year, a 66.4 percent decrease year on year.
According to the newspaper, the three oil giants made net profit of 88 billion yuan in total last year, 241 million yuan per day, dropping 59.18 percent from 588 million yuan per day.
According to Qin Wenping, an analyst at Chem99.com, the global crude oil price has been at its lowest point and the exploration sector has grown weaker. The reform of the three oil giants will go deeper this year, which puts focus not only on profits from oil refining and retail sector, but also on natural gas and chemical industries which have a higher added value.