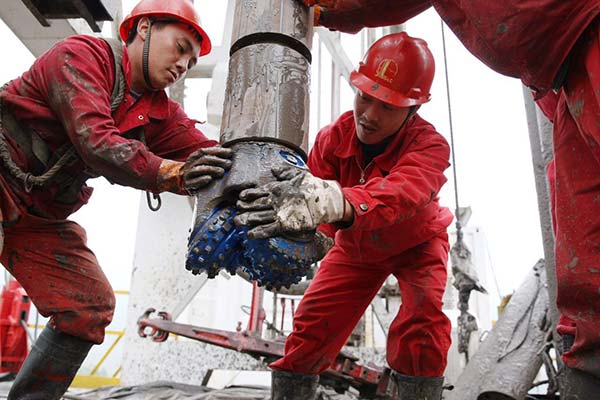 Workers change a drill at Jiaoye 8-3HF well, in Fuling, Southwest China's Chongqing municipality.[Provided to chinadaily.com.cn]
Sinopec Group said on Tuesday that the first phase of its Fuling shale gas project in the Sichuan Basin of southwest China has gone into production with an annual capacity of 5 billion cubic meters.
The project, also China's largest shale gas project to date, is the latest sign that China's shale gas sector has started to pick up steam in a bid to optimize the country's energy mix amid mounting pressure caused by air pollution.
The state company, also Asia's biggest oil refiner, said that it plans to start the second phase at the same time with a production capacity of 5 billion cubic meters.
"The target will be achieved by reaching production capacity of 10 billion cm of shale gas resources in two phases by 2017, and this will accelerate the progress of shale gas exploration to the large-scale commercialization phase," Sinopec said in a statement.
The daily production at the Fuling site is enough to meet the daily consumption needs of 32 million residents.
Jiao Fangzheng, vice president of Sinopec, said that China has rich shale gas resources and the achievement at Fuling will support the country's energy strategy to push for more exploration of shale gas in the future.
"The fruits that we achieved gave us a large boost in confidence, so I think the model at Fuling can be duplicated and promoted in other places," he said.
Shale gas is a type of unconventional natural gas trapped in a free or absorbed state in shale or mud-stone formations. Shale gas is mainly composed of methane. It is considered a type of new, clean energy source.