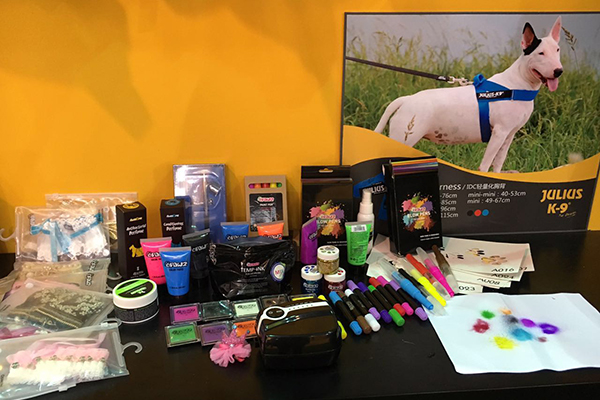 Imported cosmetics for dogs, like color chalks to dye fur and glitter gel, on display at a fair in Beijing. [Photo/China Daily by Emma Gonzalez]
Last week, Yin Chunhui took some time off on a workday to attend the third China Beijing International Pet Supplies Exhibition because he wanted to compare prices before buying the best organic food for his pet.
"I have always fed my dog the same brands. But after coming here, I realized there are many more producers (of pet-related products, including food and furniture) out there," said Yin.
His reference was to hundreds of domestic and international manufacturers who took part in the exhibition from March 17 to 20.
The entry of local players has intensified competition, increased products, widened price-range and turbocharged growth in the pet-care industry.
Sales this year are estimated to reach 11.24 billion yuan ($1.73 billion), up 7.28 percent, according to market research firm Euromonitor International.
To exploit such potential, pet product firms such as Beijing-based Woosa set up stalls at the fair to securen orders from both individuals and wholesalers.
Yvonne Sun, a sales representative of Woosa, which designs and makes high-end, environment-friendly pet furniture, including miniature PVC imitation leather beds and Nordic-style sofas, said, "We started operations last year. So, we wanted to promote the brand and test the market here."
Woosa product prices start at 1,599 yuan. Despite being a new business, Woosa sees a profitable market in the luxury pet products segment.
"There is an increasing demand for high-end products, especially for cats, because Chinese consumers want to spend big on their pets," said Sun. They are also increasingly concerned about their pets' safety.
Remote-controlled dog feeders and pet activity trackers stood out in the exhibition.
Mango IOT, a Changzhou-based company specializing in smart technology for pets, recently launched a remote-controlled, 998-yuan food dispenser that allows owners to feed their pets while they are away by using an app.
The dispenser includes a scale that weighs and dispenses the right amount of food, thus avoiding waste and pre-empting over-feeding. A built-in camera, a microphone and a speaker allow owners to monitor and communicate with their pets from remote locations.
The company has three research and development centers in China. Similarly, other manufacturers have developed tracking gadgets that are useful while walking dogs. Beijing-based Petie's 899-yuan collar-tracking device allows owners to know the exact location of their dogs using a smartphone.
As for pet-care, products range from beef-flavored toothpaste to special hair dye and glitter makeup for dogs.
Zhang Jifang, a sales representative for Petris, a Qingdao-based producer of premium pet-care products, said more owners want to buy 'beauty' products containing natural ingredients, massage oils, lotions, shampoos, essences, and even spa-like experiences for their pets.
"It's not just about keeping their pets clean." It's also about relieving joint pains, common in aging pets.
Every year, Petris makes and supplies about 20 million bottles of its various products to pet spas and grooming salons across China.
Dresses and accessories like raincoats, tiaras and costumes for pets make another interesting and growing segment.
Therese, an eight-year-old Hong Kong-based pet accessories brand, produces personalized identification tags for dogs, from simple bone-shaped ones priced 50 yuan to fancier 400-yuan models encrusted with Swarovsky crystals.
"Dog owners now spend a significant part of their income on pet products. They are willing to spend as much money on their pets as they do on their own children," said Steve Wong, factory director at Therese.