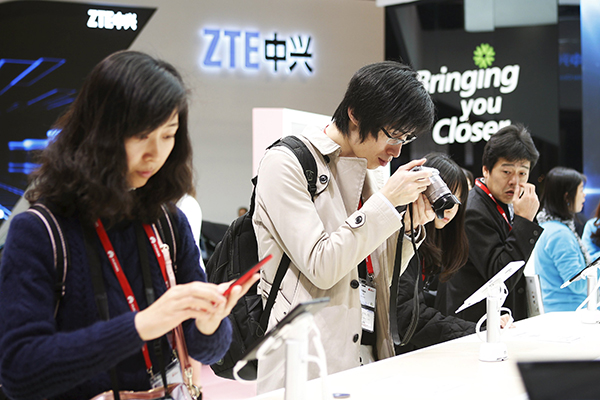 Visitors check out products at the ZTE stand at the Mobile World Congress in Barcelona, Feb 24, 2014. [Photo/Agencies]
WASHINGTON - Chinese telecom equipment maker ZTE Corp will get temporary export license from the US Commerce Department after the agency decided to restrict the Chinese company's exports early this month.
According to a notice published by the Commerce Department Tuesday, it will give a three-month temporarily general license to the ZTE and ZTE Kangxun, one of ZTE's affiliates that are required to observe the export restrictions.
The temporary license will become effective from March 24 through June 30.
On March 7, the Commerce Department announced its decision to impose export restrictions on ZTE Corp and three affiliated entities for alleged violation of US export controls on Iran.
Experts from US and China have warned that the restrictions of the Commerce Department against the Chinese company over trade would hurt American suppliers severely.
ZTE, a provider of mobile devices and telecommunication systems, has been operating in the United States since 1998. It has become the fourth largest smartphone supplier in the country and has built partnerships with many US companies, including major chipmakers such as Qualcomm, Broadcom and Intel. Qualcomm alone could reportedly suffer a loss of nearly $40 million in its quarterly trade with ZTE because of the restrictions.
The ZTE on Tuesday said on its website that it will continue to work with the US government department to be fully removed from the Entity List after the temporary trade sanction relief was provided. The temporary license will help ZTE to continue to fulfill its commitments to stakeholders, said the ZTE.
In Tuesday's notice, the US Commerce Department said the temporary license can be renewed if ZTE Corp. and ZTE Kangxun cooperate with the US government department in resolving the matter.