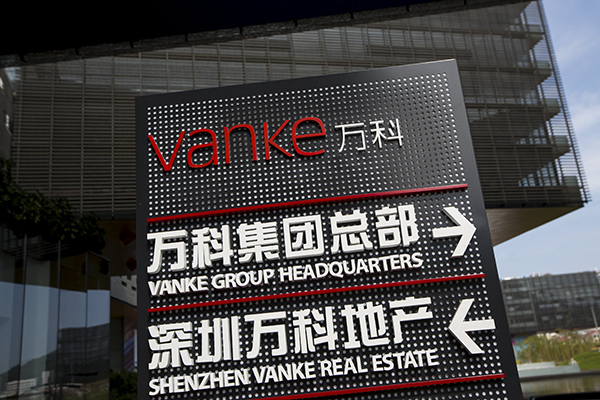 Signs show the direction of Vanke group headquarters and Shenzhen Vanke Real Estate at its headquarters in Shenzhen, South China's Guangdong province, November 2, 2015. [Photo/Agencies]
China's property behemoth Vanke Co has signed a preliminary agreement with subway operator Shenzhen Metro to acquire up to 60 billion yuan ($9.3 billion) of property assets atop its subway lines, in the latest control tussle between the company's top management and Baoneng Group.
Vanke plans to issue new shares in exchange, it said in a filing to Shenzhen Stock Exchange on Sunday, which will lead Shenzhen Metro to become one of its major shareholders.
The size of the new issuance, offer price and means of the transaction would be subject to further due diligence conducted by third-party assessment, according to the announcement, adding that the transaction is expected to value between 40 to 60 billion yuan.
Vanke, on trading suspension, had a market capitalization of 269.7 billion yuan as of Friday close.
Shenzhen Metro would inject some of its "quality" property projects above subway stations into the subsidiary to be sold, while Vanke would acquire some or all of the stakes, the developer said.
The rail transit will unleash great growth potential especially in Shenzhen, given its relatively low share rate, said Tan Huajie, Vanke's senior vice–president, at a press briefing on Monday.
The move is expected to help the developer giant fend off a hostile takeover by Shenzhen-based real estate and insurance conglomerate Baoneng Group, as the latter became Vanke's largest shareholder in December with a 24.3 percent stake.
The announcement came as Vanke posted a 15.1 percent surge in net profit to 18.1 billion yuan last year. Revenue jumped 33.6 percent to 195.5 billion yuan.
The deal is subject to regulatory and shareholders' approval, according to the filing.