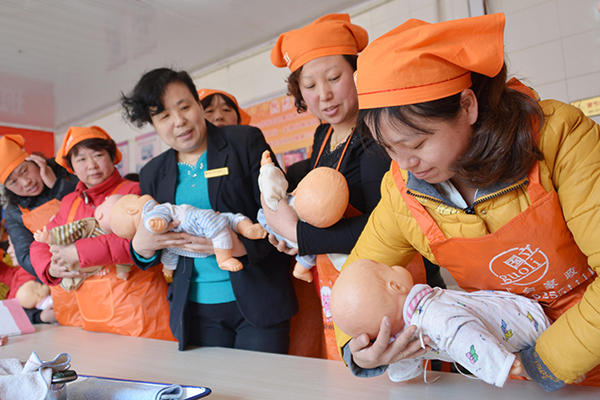 Nannies learn how to take care of babies at a training center in Jimo, Shandong province. [Photo/Xinhua]
Weeks before our second child was born in January, my wife found something that dampened our excitement: The costs for a month-long confinement nanny had soared and we could be priced out of a good one.
Before that I had heard that local nannies, commonly known as yuesao in Chinese, had raised their fees recently when China allowed all couples to have two children. I also knew some rich families paid more than 100,000 yuan ($15,313) for spa-like confinement complete with specialist care, massage and haute cuisine.
But I was still taken aback to learn that a live-in yuesao, a job usually held by rural women, could charge tens of thousands of yuan now.
We hired our first yuesao, Sister Zhang, seven years ago when my son was born. She was one of the migrant women who milled around the hospital in downtown Beijing to be picked by new parents.
Sister Zhang, with a certificate that testified to her abilities to look after both the mother and the newborn, had worked hard to attend to my wife and son day and night. In addition, she cooked and did housekeeping, all for 6,000 yuan for the month.
But finding a nanny from the sidewalk was not an option this time round as we needed to ensure that my wife had a good recovery after a Cesarean delivery and a pregnancy that hadn't been smooth-sailing.
Instead my wife had studied packages from nanny agencies that train and dispatch migrant women to work for urban families.
Following a government guide, yuesao can be ranked from one to five stars, with a greater number of stars indicating more diplomas, longer experience and better services. A five-star nanny can go on to become a gold medal yuesao, the highest qualification in the business, if she cares for dozens of babies with no complaints from employers, earns multiple certificates in child care, housekeeping and nutrition, and possesses specialist skills for the care of the mother, like psychological support when she is in postnatal depression.
Our first yuesao would fall into the low end of the classification, not just because of her pay. Memories of a sometimes bitter and critical Sister Zhang, a divorced mother from northeastern China, often surged back when my wife recalled her last confinement and her symptoms of depression then.
When searching for the best deals, my wife soon found she couldn't take her eyes off the picture of Sister Sun, a gold medal yuesao, which was posted on the Web along with recommendations of her previous employers who heaped praises on her capabilities and pleasant personality.
The interview with the 45-year-old mother of two who came from a rural village also went well, except for her price that would blow our budget. The total costs would be around 20,000 yuan for the month, including double pay for the coming Spring Festival break and a hongbao-gift money to mark the holiday-as the traditional norm.
But her agency warned us that Sister Sun had already been booked until June this year, except the February slot that could be filled any time. Beijing is expected to welcome 300,000 newborns this year, which may continue to push up wages for good confinement nannies who are already in hot demand.
Even without the anticipated mini-baby boom, we were also told, prices for nannies had increased year by year, in tandem with a national trend for migrant labor costs. Last year, on average, the monthly income of such workers rose 80 percent to more than 3,000 yuan from five years ago. Trained and skilled workers stood to earn much more, in another sign of the fast-ending cheap labor.
After cutting other family spending, we hired Sister Sun who epitomized such an upgrade through learning and practice. It was a decision that we've not regretted.
After Sister Sun moved in, I'd asked my wife about the difference between her and our first nanny. "She is a professional," my wife said.