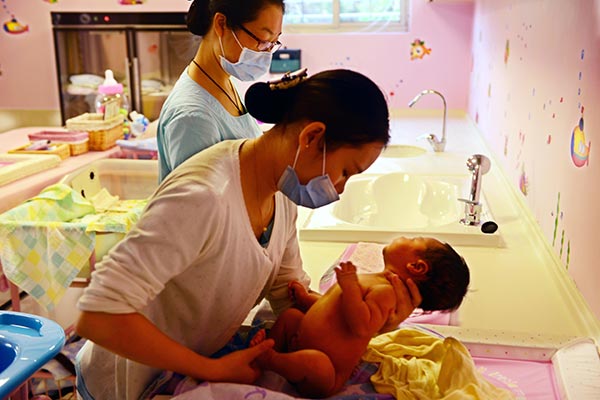 A nurse tends to a newborn after giving the infant a bath at the Heyi Confinement Center in Xiamen, Fujian province.[Provided to China Daily]
Postpartum care providers are in demand amid expectations of a baby boom, but some pregnant women are not very pleased
China's amendment to its 1978 single-child family policy, allowing couples to have two children now, is expected to not only counter a shrinking workforce and an aging population but heat up the "confinement nursing" market.
Signs of a potential rise in demand for yuesao, or a postpartum care worker, are already there in China's mega cities amid expectations of a baby boom from late 2016 onwards.
"Most of the senior yuesao have been reserved for the first half of 2016 as many moms are expecting a second baby at that time," said Cai Jie, manager of Beijing Fuyuan, a housekeeping services company based in the capital city.
Years ago, the company used to provide various household management services like cleaning, maintenance and cooking. However, as the demand for yuesao surged in recent years, Cai decided to focus on the sector, which was hitherto a minor segment in the company's range of services.
"Some moms seem to prefer having a new baby in 2016, the Year of the Monkey, compared with 2015, the Year of the Sheep, if the new demand for mother and childcare services is any indication," said Cai.
Rising incomes of China's expanding middle class are making it possible for them to hire qualified yuesao, she said.
According to Cai, who is herself a qualified yuesao, a qualified postpartum nurse in big cities usually charges around 15,000 yuan ($2,300) per month now, much higher than what was charged a year ago.
A reputable yuesao may be able to command even higher wages from private employers, including white-collar professionals working for foreign firms, she said.
In mega cities, most yuesao can expect to earn at least 7,000 yuan per month. In contrast, an experienced maid-cum-cook earns around 3,000 yuan per month.
In Shenzhen, a yuesao earns an average salary of 10,000 yuan per month. Those who can cook customized confinement meals well could earn as much as 23,000 yuan per month.
According to the Xinmin Evening News, a white-collar professional named Dong Yali, who has been working in Shanghai for 10 years, recently quit her job and joined a yuesao company, to be trained as a postpartum nurse, so she could start a new, well-paying career.
According to the newspaper, Dong said she believes demand for qualified yuesao would increase in future if the expected baby boom comes to pass. In such a scenario, yuesao could make much more than white-collar workers in metropolitan cities like Shanghai and Beijing.
According to a recent survey, more than 80 percent of the people in Guangzhou, the capital of Guangdong province, said they needed a maternity nanny to take care of both the newborn and the mother. Only 13.6 percent said they did not consider hiring a helper during home confinement, according to a report in the Yangcheng Evening News, a local newspaper.
Wang Qing, a mom of a four-year-old son who is expecting her second child in May, found for herself a yuesao when she was three months pregnant.