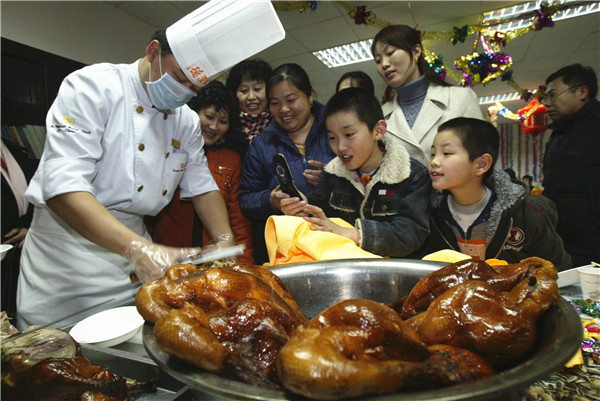 A chef prepares roast ducks for his customers in a Sijiminfu roast duck restaurant in Beijing. Provided to CHINA DAILY
Beijing restaurant offers model for SOEs' reform
The Qianmen branch of Sijiminfu, a roast duck restaurant with only 90 square meters of floor space in downtown Beijing, reported net profits of nearly 3 million yuan ($468,750) last year, an outstanding achievement. The restaurant's recipe for success is not spices or cooking methods, but a unique management philosophy that means key employees are included in a profit-sharing scheme.
The so-called dividend-sharing mechanism sees employees with management responsibilities take home a share of the profits based on their performance and investment, giving them access to financial rewards that were once exclusively for major shareholders. These employees share 20 percent of the profits within the annual target, plus 60 percent of profits above the annual target.
"The practice of dividend sharing could help the ongoing State-owned enterprise reform drive," said China Enterprise Reform and Development Society deputy head Zhou Fangsheng.
SOE reform has yet to achieve it full potential, having been held back by systematic problems, conflict of interest and other complicated issues such as property ownership and management style.
"Dividend sharing might be exactly what SOE reform needs," Zhou said, adding that it could improve productivity and boost profits without denting state assets or changing property ownership.
Dividends are traditionally divided up between shareholders according to their investment, an approach Zhou warned results in wealth gaps. Whereas the allocation of profits according to both investment and performance is much fairer, he said.
The practice is actually not new to China. Over 300 years ago, a private bank in Shanxi province successfully implemented a similar system to manage its bad-performing loans.
It is also hoped that such an arrangement will help clean up corruption in SOEs.
"Who would steal or take kickbacks from their own business," said Zhang Qiang, a Sijiminfu chef.
Guo Fansheng, board chairman of Hc360.com, a leading B2B e-commerce platform, implemented this system over 20 years ago, with stock incentives resulting in increasingly bigger profits year after year.
"You have to establish a mechanism that gives employees a sense of ownership. Motivation is the key," Guo said. The State-owned Assets Supervision and Administration Commission released a guideline in 2008 that encouraged firms to explore equity sharing and profit incentives.