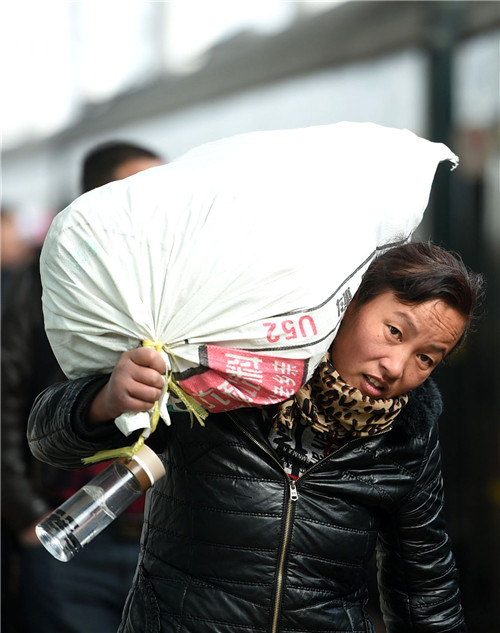 A migrant worker carries bulky luggage at the Haozhou railway station, Anhui province in this file photo. During the Spring Festival holiday this year, migrant workers have lighter luggage, which indicates improvement in their living standards. Provided to CHINA DAILY
Younger workers have lighter bags as they offer expensive digital gadgets as gifts to relatives
The size of luggage carried by Chinese migrant workers returning home for the Spring Festival is often the reverse of their purchasing power; the bigger the bag, the less money spent.
As legions of migrant workers embarked on their journey home ahead of the lunar new year, they were often seen carrying suitcases, canvas bags and buckets stuffed with gifts for their rural families.
While older workers tended to pack bulky snacks from the city and winter clothes, younger workers were often seen carrying lighter bags as they preferred digital gadgets as new year gifts.
Shi Jiawen, 19, marked his first year as a decorator in Fuzhou, capital of coastal Fujian province, by splurging 3,200 yuan ($500), more than his monthly income, on a smartphone for himself and a tablet computer for his sister in their hometown in landlocked Sichuan province.
Shi was among 12 of 20 young workers at the Fuzhou railway station who said they had purchased digital devices, mostly smartphones, for the coming holiday.
"Electronic products aren't so expensive," Shi said, adding that expanding Internet connectivity in the countryside has made the use of the devices "more convenient."
His father, though making more money, was more a paragon of tradition and thrift, spending just 500 yuan to buy local tea as a new year gift.