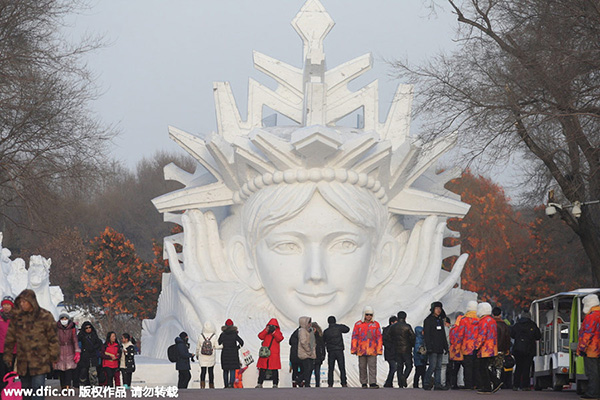 Tourists take photos in front of a gigantic snow sculpture of a goddess' face at the Ice and Snow Amusement World in Harbin, Northeast China's Heilongjiang province, Feb 10, 2016, the third day of China's Year of the Monkey. [Photo/IC]
HARBIN - More than a million people have visited one of the world's largest ice festivals in Northeast China since it opened late December.
This year's Harbin Ice and Snow World, featuring castles, towers and slides, all made of ice and snow across more than 800,000 square meters, is the largest ever held in the capital of Heilongjiang province. It has helped boost tourism growth amid the region's heavy industry-reliant economy.
Over the seven-day Lunar New Year holiday, which began Feb 7, 169,000 people visited the event, up 16.61 percent from a year ago.
The festival has brought in 40 million yuan ($6.13 million) in revenue during the holiday, up 17.46 percent from the same period a year ago.
Some of the sculptures have begun to thaw as temperatures are rising, and some installations are now closed to the public over safety concerns. The event will remain open until late February or early March, depending on the weather, organizers said.