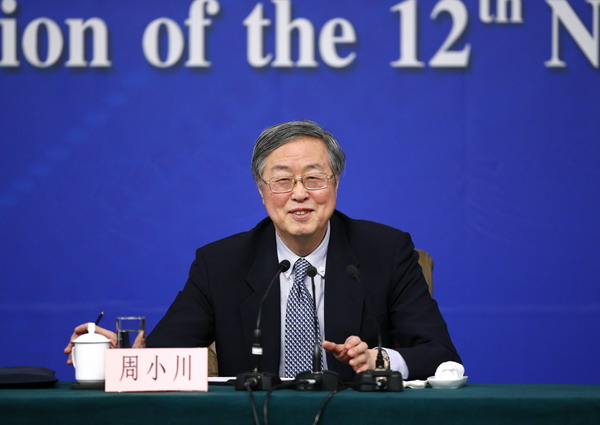 Zhou Xiaochuan, governor of People's Bank of China, takes questions from journalists at home and abroad during an ongoing press conference on March 12, 2015. [Photo / Xinhua]
There is no basis for continuing depreciation in the renminbi and China would not let market sentiment be dominated by speculative forces, said central bank governor responding for the first time to recent market volatility.
In an interview published over the weekend in Caixin magazine, Zhou Xiaochuan, governor of the People's Bank of China (PBOC), also dismissed rumors it would tighten capital control.
"The renminbi's exchange rate remains stable and even appreciated against a basket of currencies, and there's no basis for continuing depreciation," said Zhou, adding that cross-border capital flow remains within normal range
The governor noted foreign exchange related fundamentals lie in two factors: for one, China still ran a large surplus in its current account in 2015, with surplus in commodity trade reaching $598.1 billion; for the other, the country's inflation figure remained low, a merely 1.4 percent year-on-year increase in the Consumer Price Index, which is beneficial to the currency stability.
Fend off speculations
Zhou said international speculators with abundant liquidity were targeting China, but the latest data will "speak for itself".
"China would not let the market sentiment be dominated by these speculative forces," he said.
The usage of China's foreign reserve includes guarding financial stability, and its capability is unquestionable, said Zhou, adding that "the PBOC will use ammunition while minimizing costs, further reform the formation mechanism of exchange rate and address to speculative forces in a more flexible way."
Such comment came as China's foreign reserves last month fell to its lowest levels since 2012.
The country did not devalue the yuan "on purpose" to boost exports, he stressed in the interview with Caixin. "Last year's total trade surplus was close to $600 billion and net export's contribution to the GDP was not low, so there's no motive to depreciate for the sake of increasing net export."