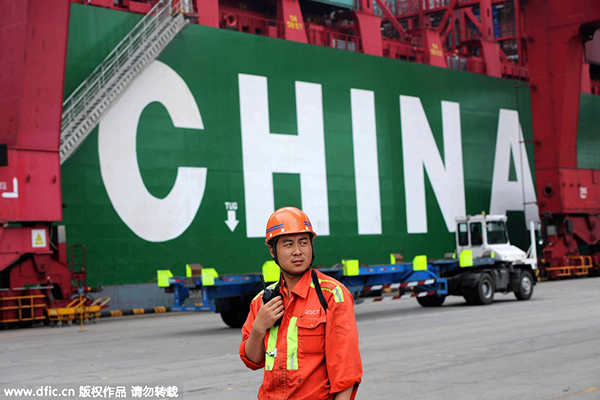 A stevedore works at Qingdao port in Shandong province, July 1, 2015. [Photo/IC]
China's foreign trade dropped 9.8 percent on a year-on-year basis to 1.88 trillion yuan ($288 billion) in January, while exports dropped 6.6 percent from the same month last year and imports declined 14.4 percent, customs data showed on Monday.
Monthly foreign trade surplus widened to 406.2 billion yuan in January from 382 billion yuan a month earlier, according to the General Administration of Customs data.
"The weak manufacturing activities and a bearish housing market have caused domestic demand for commodities, including refined oil, industrial metals and plastics, to decline," said Zhao Zhongxiu, a trade professor at the University of International Business and Economics in Beijing.
Zhao said the trade surplus, combined with a downturn in exports and imports, complicates the country's ongoing effort to readjust industrial structure.
"The era of fast trade growth that China experienced in the past three decades may be gone," Zhao said. "As a large number of factories will start their operations after the Spring Festival period, the country's foreign trade is likely to rebound during the second quarter of this year."
In addition, developed nations are revitalizing their export sectors through reindustrialization and trade protection policies.
In the past half decade, China has also been losing its advantages -- including skilled labor, sound infrastructure and industrial facilities -- as many industries and orders move to other markets, such as Southeast Asia and India.
Related reading
Tax reductions aim to boost service trade by Zhang Yue,China Daily
China will seek to increase the service and merchandise trade by increasing accessibility for overseas companies and providing tax cuts for technology providers, a State Council executive meeting decided on Sunday, the first working day after the Spring Festival.
Further opening up the service market and developing the service trade despite the "complex and challenging global economic situation" was one of the main items on the agenda.
The first State Council executive meeting after the Spring Festival holiday was presided over by Premier Li Keqiang. Such meetings are usually held on Wednesdays.
The decision was made against the backdrop of China's imports and exports of merchandise encountering a bottleneck last year due to weakening export demand and rising domestic wages.
Many foreign enterprises, especially in various service industries, are striving for greater access to the Chinese market.
The meeting also decided that quickening development of the service trade can help China to generate new GDP growth and employment at a time when the country is ready to close a number of companies with excessive capacity, such as the steel and coal industries.
Pilot programs are to be launched in 10 cities along with five national-level new investment areas providing greater access and convenience to overseas companies, more flexible administration and diverse development models, the meeting decided.
The cities chosen for the pilot programs are Shanghai, Tianjin, Shenzhen, Guangzhou, Hangzhou, Suzhou, Hainan, Wuhan, Chengdu and Weihai (Shangdong province).
The national-level investment areas are Harbin in Heilongjiang province, Jiangbei (Nanjing), Liangjiang (Chongqing), Guiyang-Anshun (Guizhou), and Xi'an-Xianyang (Shaanxi).
The pilot programs will run for the next two years. Tailor-made policies are to be introduced to match the changes that the programs will bring, the meeting decided.
These matching policies will fall into three categories. First, a tax cut will be awarded to service companies with advanced technologies — with the tax level falling from 25 percent to about 15 percent.
Second, the government will set up a fund to guide innovation in the service trade, especially that of small and medium-sized enterprises based on the areas where the pilot programs are introduced.
Financial subsidies will be granted for the research and development that is needed urgently by the domestic market and for environmental protection services.
Third, the government will encourage financial institutions to expand their services to service companies.
Lin Lei, a researcher at the Center for Innovation and Development at the Chinese National Academy of Sciences, said the government's efforts to open access for the service industry "come at the right time".
"China's service industry has grown so rapidly over the past decade that it is able to accommodate more competition," he said.
Sunday's meeting also discussed innovation and upgrades for the medical and pharmaceutical industries and the development of Traditional Chinese Medicine.