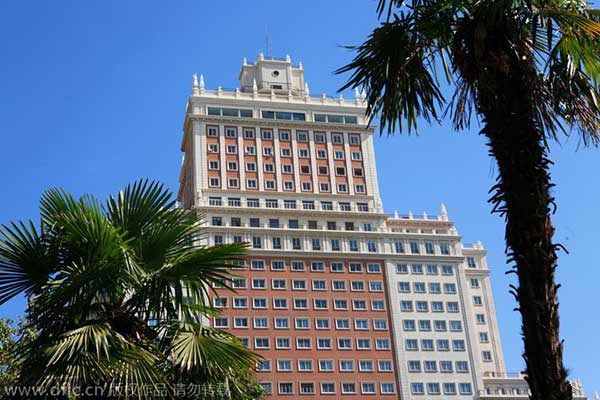 The 28-story Edificio Espana, Spain's tallest building when it was built in the late 1940s, is a central landmark in Madrid and used to house a hotel, though it has been vacant for several years. [Photo/IC]
Chinese real state giant Dalian Wanda denies claim by Spanish media that the company has cancelled a multi-million-euro project to convert a landmark building into a luxury hotel and shopping mall in central Madrid.
In a statement published on the group's website, Wanda rejected the rumors of rising tensions between property tycoon Wang Jianlin and the mayor of Madrid Manuela Carmena during the negotiations on the future of the iconic landmark Edificio Espana in the Spanish capital.
Last week, frictions between the two parties were reportedly escalating after Spanish website El Priodista Digital wrote that Wang had bitterly commented his 'dog like' treatment by Spanish officials.
"I have never been treated as badly by anyone in my entire life", the Spanish website quoted him as saying to his negotiation team in Madrid.
This morning, the company published a press release denying those comments and its intention to sell the building.
"Wanda's chairman Wang Jianlin never made such statements" said the press release, adding that, "the company will now conduct a new comprehensive assessment of the Edificio Espana project."
Meanwhile, on Tuesday this week, Mayor Manuela Carmena confirmed that Wanda was not withdrawing the Madrid project.
"I think Wanda Group is reflecting on the conversations and proposals that we have had recently," said Carmena during a press conference. "The city is interested in doing everything possible to allow a hotel to be built."
Since the approval of the project, the two parties have disagreed on the future of the building because Madrid authorities refused to allow the Chinese property developer to dismantle the façade of the protected landmark.