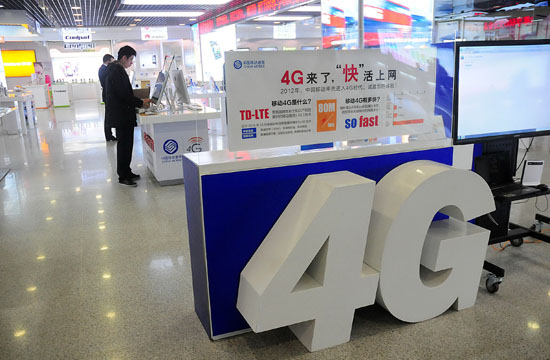 China Mobile's 4G experience center in Hangzhou, Zhejiang province.[Photo/China Daily]
China's mobile users have exceeded 1.3 billion by the end of last year - nearly everyone in the country owns a mobile phone, of whom 29.6 percent are 4G users, according to the latest data from the Ministry of Industry and Information Technology.
The population of 4G network users in China surged in 2015. Newly subscribed users increased by 289 million in the period, nearly tripling that of 2014, which brought the total number to 386 million by the end of last year.
Meanwhile, the number of 2G users fell sharply - 183 million less than a year earlier. The number accounted for 39.9 percent by 2015, according to the ministry.
Subscribers of fixed telephone lines stood at 231 million, decreasing 18.4 million during the same period.
China Telecom, the country's third-largest telecom carrier, has promised more resources to grow its 4G user base in 2016, which would up the ante of the 4G market, said an earlier China Daily report.
"Currently, we have 91 million 4G users, accounting for 47 percent of all our subscribers. But that is not enough. Our top priority in 2016 is to boost the 4G user penetration rate to 80 percent," said the report citing the company's General Manager Yang Jie.