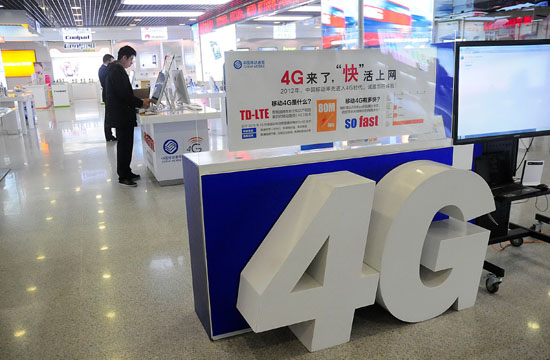 China Mobile's 4G experience center in Hangzhou, Zhejiang province.[Photo/China Daily]
China is aiming to grow user number of fourth-generation (4G) telecom networks to 600 million by 2016, an industry watchdog said on Thursday.
The country is poised to have 380 million 4G users by the end of 2015, according to the Ministry of Industry and Information Technology.
Expending the 4G service will be a top task for telecom industry as the country is trying to increase connection speed while bringing down data traffic fees, the ministry said.
China is already the world's biggest telecom country, with the biggest user number and the largest infrastructure.
China Mobile Ltd, the No 1 carrier by user number, will be a major driver of China's 4G initiative. The State-owned enterprise is looking to double its 4G user population in 2016, to 500 million.
A report from industry research firm IDC estimated close to 90 percent of the mobile phones shipped in the last two quarters in China are comparable with the 4G technology.