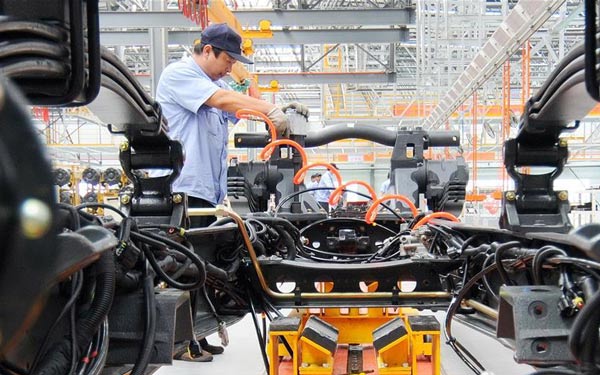 A worker is occupied on a production line at a workshop under the AVIC in Xingtai, North China's Hebei province, Sept 11, 2015. China's economy grew by 6.9 percent in 2015.[Photo/Xinhua]
DAVOS, Switzerland -- China is edging closer to being prepared to lead the world's new industrial revolution, or Industry 4.0, as it is swiftly setting the stage for the convergence of multiple new technologies, said observers at the annual World Economic Forum held at Davo.
"I do not see any reason why China should not be the leading or at least under the top three leading countries driving that transforming forward," said Bernd Leukert, member of the executive board of SAP, a global leader in corporate management software, referring to the new industrial revolution.
China has the technological edge and boasts great efficiency in the manufacturing sector, he said at the Davos forum over the weekend, which was held under the theme of "Mastering the Fourth Industrial Revolution."
Experts at the forum said China has gained a strong foothold in the economy of the future by quickly embracing the new industrial revolution and encouraging Internet-based innovations.
While China is selling high-speed trains to overseas buyers, information technology companies like Alibaba, Tencent and Baidu are quickly making an impact on the lives of almost everyone in the country of 1.3 billion people.
Online stores are trying to ensure that ordered goods arrive at the doorstep of their customers in as short a time as one day. This is forcing changes in the shopping malls, too.
"China is overtaking other players at the corner if you look at areas like mobile Internet," said Zhang Yaqin, president of Internet search provider Baidu, one of the information technology leaders in China.
Experts at Davos said the new industrial revolution is not powered by any single breakthrough but by the integration of multiple technologies.
Matthew Grob, chief technology officer of Qualcomm Technologies Inc., said these include artificial intelligence, machine learning and telecommunications. Others cited 3D printing and driverless cars.
"People were quite keen to see how China is transforming from a manufacturing hub to an innovation hub," David Aikman, chief representative officer for Greater China, World Economic Forum, told Xinhua in an interview ahead of the forum.
Chinese leaders have said innovation is at the core of the national development plan. The government has implemented measures to drive market-based reforms, encourage innovation and entrepreneurship, and cut red tape by streamlining procedures. It is now much easier to register new businesses in China, and incubators are booming across the country.
"A number of activities defined by the government in its 13th Five-Year Plan such as the 'Internet Plus' and 'Made in China 2015' shows that China is going right towards that direction," said Klaus Schwab, founder and executive chairman of the World Economic Forum.
Hans-Paul Buerkner, chairman of the Boston Consulting Group, told Xinhua at the forum that among economies talking about reform or transformation, China would probably deliver greater certainty than the other parts of the world.
Despite challenges like the removal of excess capacity, "the sincerity of the efforts in China is very strong," he said.
Buerkner, who visits China several times a year, said some Chinese companies, like Huawei, Lenovo, Haier and Xiaomi, have become strong global competitors in innovation and digitalization.
Still many more Chinese companies are emerging as strong competitors in the innovation-based new economy. DJI, a company established ten years ago in China's southern city of Shenzhen, is now the market leader in easy-to-fly drones and aerial photography systems.
China has been among the leading countries in recent years in terms of the number of patent applications in 3D printing, robotic engineering and nanotechnology, according to statistics released by the World Intellectual Property Organization.
Microsoft founder Bill Gates said that with the recognition that people have done something that they can be rewarded for, many experts have founded new companies in sectors such as IT, biology and robots. "China is going to carry its weight," he said.