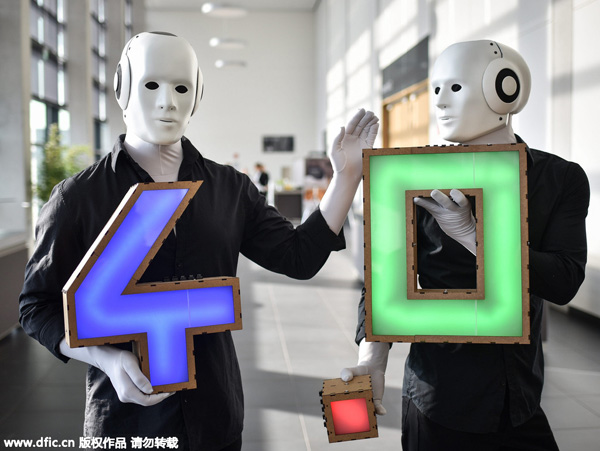 Two actors dressed as robots pose with the numbers '4.0' on the occasion of the launch of the platform 'Industrie 4.0' at the Hannover Messe industrial exhibition in Hanover, Germany, April 14, 2015. [Photo/IC]
HANOVER - The Industry 4.0, a strategy in Germany aimed at digitalizing the manufacturing industry, is likely to open a new field of cooperation between China and Germany, an analyst has said.
China will become an important market for Industry 4.0 products from German's manufacturing companies, Xiangqian Zhou, Chairman of the German-Chinese Alliance for Industry 4.0, argued while speaking at a forum at the ongoing Hannover Messe.
Chinese companies in the manufacturing industry also need to learn from their German counterparts to catch up, which means the companies from the two countries will need to communicate and cooperate with each other, he added.
Volker Burch, Vice President of iTAC Software AG, a German software company, echoed Zhou and said that their Industry 4.0 products had already been running in the plants of their customers in China.
State-of-the-art products and technologies are on display at Hannover Messe, the largest industrial fair in the world. Signs of Industry 4.0 can be spotted in nearly every exhibition halls.
Germany has made a good start and Industry 4.0 has been turned into a reality this year, said Frank Brueckner, a press officer of VDMA, German Engineering Federation, one of the three associations in Germany that formed the Industry 4.0 platform. He disclosed that around 50 VDMA member companies are showcasing Industry 4.0 products and solutions at the Hannover Messe.
Wolfgang Dorst, an Industry 4.0 expert with BITCOM, Federal Association for Information Technology, Telecommunications and New Media, also sees potential for the cooperation between Germany and China with regard to Industry 4.0. "We have to be engaged to find out what's possible," he said.
The Hanover Messe kicked off on Monday and will conclude on Friday. With a motto "Integrated Industry - Join the Network", the fair attracted over 6500 exhibitors from all around the world.