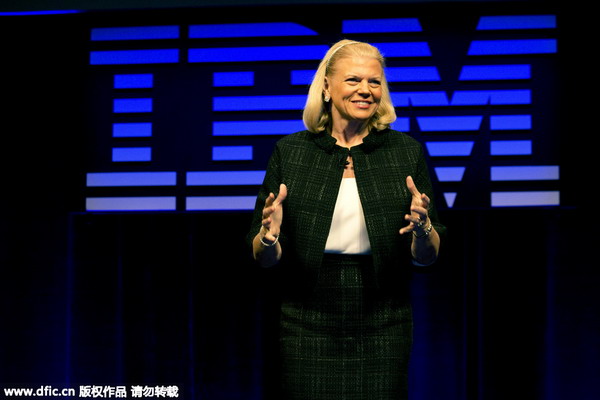 IBM Chairman and CEO Ginni Rometty addresses 1,500 IBM business partners about how IBM can help them accelerate a move to strategic growth areas of cloud, analytics, mobile, social and security at the IBM PartnerWorld Leadership Conference, Feb 12, 2015. [Photo / IC]
International Business Machines Corp is joining with Apple Inc, Johnson & Johnson and Medtronic Plc to create a technology that will make it easier for healthcare companies to analyze patient data.
IBM has announced a cloud-computing platform, called Watson Health Cloud, which can store and analyze anonymous patient data. A business unit will be created around the offering with at least 2,000 specialists, IBM said in a statement.
The company has been seeking growth in newer areas like data analytics and cloud computing as tumbling demand for legacy hardware and services has dragged down revenue. The company has increasingly relied on industry-specific partnerships to help boost sales, like these latest tie-ups in health care.
"It's a huge bet for IBM," said John Kelly, senior vice-president for solutions portfolio and research, in an interview. "We looked around for areas that were high growth where if we entered we could make a substantial difference and capture substantial share. None of us are satisfied with the outcomes in the healthcare industry."
IBM, based in Armonk, New York, also said it had acquired medical data analytics company Explorys Inc and patient-care and reimbursement software maker Phytel Inc. The terms were not disclosed.
Technology has made it easier for patients and physicians to gather large quantities of health data. Yet, the information is often fragmented across different electronic record systems, making it hard for researchers to leverage for large-scale studies.
Apple has been one of those companies that lets consumers gather wellness data through its new smartwatch and the iPhone and iPad with its HealthKit health- and fitness-monitoring system.
HealthKit, which synchronizes data from various health and fitness apps to work as a central dashboard for users, will start running on the Watson Health Cloud in the next few weeks, IBM said. Apple ResearchKit, which lets medical researchers enroll consenting users into trials, will also move to IBM's cloud.
IBM's partnership with J&J will build off the healthcare company's existing platform called Patient Athlete. The self-guided, video-based training program announced in February helps patients prepare for joint replacement surgery.
"There's an acute need in the hospital system to actually find ways to track outcomes as it relates to surgical intervention," said Sandra Peterson, group worldwide chairman of J&J. The new IBM-enabled services will likely begin introduction starting next year.
Take a patient undergoing a knee operation. A tracking service like the one J&J and IBM envision would provide instructions for patients ahead of a procedure and then follow patients after surgery to monitor their recovery and encourage them to attend physical therapy, Peterson said.
The program would be expanded to other surgical interventions beyond joint replacement and even to chronic diseases. "Providing patient-specific interaction and engagement, including knowing their patient record and their patient history, you get better outcomes at the back end, you get quicker recovery," she said.
Medtronic and IBM expect to work together to use medical device and patient data to create close to real-time, personalized-care plans, according to the statement. The companies did not disclose when the offering will be available. Medtronic is the world's biggest maker of heart-rhythm devices.