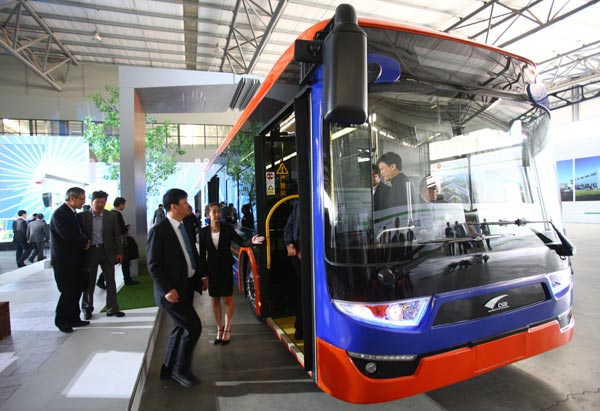 A "supercapacitor" trolleybus made by the CSR Corp at its production base in Ningbo, Zhejiang province. [Photo/China Daily]
CSR Corp has won contracts to supply Ningbo, Zhejiang province, with 1,200 of its "supercapacitor" trolleybuses-a zero-pollution vehicle that features the company's latest charging technology.
CSR Corp and CNR Corp, China's two largest locomotives and rolling-stock manufacturers, have led the recent surge in transport stocks after their merger gained approval from security authority earlier this month.
After completing the acquisition of UK subsea equipment firm Specialist Machine Developments Ltd for around $192 million on Wednesday, CSR said it had signed purchase contracts to supply 800 of the trolleybuses to the Ningbo municipal government, and 400 of them to the city's Yinzhou district.
The trolleybus has a number of what the company claims to be unique energy-storage features.
It takes just 30 seconds to fully charge and can do so when stopped to let off passengers, allowing it to travel for 5 kilometers between charges, said Zhou Qinghe, the president and general manager of CSR Zhuzhou Electric Locomotive Co. This charging ability at bus stops eliminates the need for overhead electricity lines.
"Unlike a subway system, which might cost tens of billions of yuan to build, such a new trolleybus system might only cost tens of millions, so many local governments could afford the new lines," said Zhou.
China has completed the construction of a vast national rail system in recent years and experts still think there is great potential for more, as well as for urban rail systems.
The country has also been keen to explore the potential of landing overseas projects too for its various types of rail technology.
"In markets such as Eastern Europe, for instance, many of the streetcar or trolleybus services running are three or four decades old, so there is a huge replacement market out there," said Zhou.
Yang Ying, CSR Zhuzhou Electric Locomotive's chief expert, said the key feature of the supercapacitor trolleybus is that many of its components are made of carbon-based materials, which allow the vehicle to withstand temperatures ranging from minus 40 C to 65 C and give it a 12-year life span.
This new CSR design of trolleybus can also store as much as 80 percent of its unused energy, when, for instance, it is sitting idle or running downhill.
CSR also revealed on Thursday it had signed a funding agreement with Bank of China's Ningbo branch, and a strategic cooperation contract with Green Power Co, a renewable energy and power storage systems provider.
CSR spent 1.8 billion yuan setting up the new trolleybus development and production base in Ningbo in 2012.
Xiong Jianping, the deputy governor of Zhejiang, said the provincial government will continue to support the growth of CSR's new-energy locomotive industry.