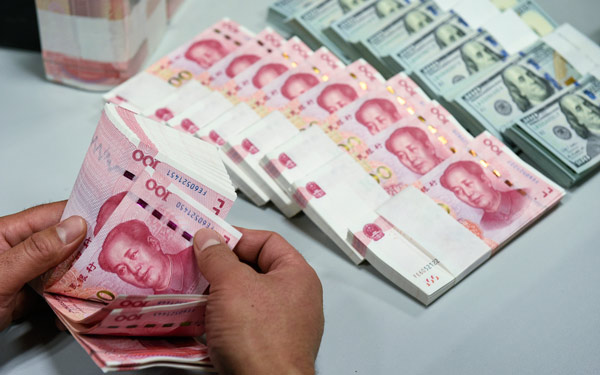 China's venture capital deals hit $34 billion by the start of December 2015, more than double the total for all of 2014. [Photo/China Daily]
Kungfu Bear had its day.
Wang Run founded the startup in Beijing just over a year ago to let people order inexpensive massages through a smartphone app. As venture capital money flooded into China, the company raised cash to draw customers and acquire rivals. Its valuation topped $15 million.
Now the good times are over for Kungfu Bear and many of China's once-hot startups. After pouring more than $30 billion into the country in 2015, venture firms switched off the easy money, concerned there's too much competition.
A shakeout is beginning, particularly among app makers offering generic services like car washes and massages. Co-founder Meng Junxian said they had to cut the company's valuation to raise more cash and fight off rumors of bankruptcy.
"In this climate, if you can stay alive, that's the best," said Meng, a 29-year-old former coder for Baidu. in an interview in mid-November. "Right now, that's the reality of the market."
China venture investments surged to historic highs earlier last year, partly inspired by the fortunes investors made in the record initial public offering of Alibaba Group Holding Ltd. China VC deals hit $34 billion through Dec 2, 2015 more than double the total for all of 2014, according to the London consultancy Preqin Ltd.
In the current shakeout, startups hit the hardest are those in the online-to-offline, or O2O, business, where consumers use an app or website to order grocery deliveries, laundry, in-home manicures or car rides. Dozens of apps often started in a single niche, and many would use venture cash for subsidies to pull in customers and suppliers. In Beijing this year, it became common to get free rides as Uber Technologies Inc. and local rivals battled for market share.
The freebies are disappearing now. Venture firms are holding back on writing checks and many startups struggle once they can no longer subsidize services.
"Companies are paying for their past sins," said Kai-Fu Lee, founder of China's Innovation Works, which invests in startups.
Kungfu Bear got its start in the heady days of 2014. After working at search giant Baidu, Wang joined a newsletter called 36kr.com. He and Meng then participated in a startup accelerator program backed by Microsoft Corp.
Wang got the idea for a massage app after spending hours hunched over his desk tapping code. He figured he wasn't the only one with a sore back and that there was a market for white-collar workers whose desk-bound days left them aching, according to an interview with the People's Daily newspaper. Kungfu Bear landed angel funding from China Renaissance K2 Ventures and started operations in October 2014.
Kungfu Bear recruited masseurs by offering them cash incentives. Users could book a massage in their home for as little as $16 and then rank their masseuse. The service offered a convenient alternative to China's ubiquitous fluorescent-lit storefronts offering traditional massages and was cheaper than going to a spa yet still wholesome.
In March, it expanded to Shanghai and landed at least $1 million from Vertex Venture Holdings. In May, the South China Morning Post newspaper listed it among the five most popular on-demand services apps in China.
By June, it started snapping up regional rivals, including one in western China. Competitors sprouted up, including one called NANA Panda (whose name is even more similar in Chinese characters). A glowing profile in the People's Daily, the Communist Party's flagship paper, called Wang "the industry leader."
The turning point came in July, when China's stock markets lost $5 trillion after gloomy economic news hammered investor confidence. That raised concerns among VCs that they couldn't take startups public and prompted publicly traded companies, which had been putting money into startups, to pull back their investing.
"We had too many unprofessional investors," said Chuan Thor, managing director of Highland Capital Partners, a Boston-based venture firm that invests in the United States and China.
Since then, raising money for startups is increasingly difficult, said Arvid Wong, founder of an online personal assistant called Laiye that raised $4 million in seed funding.
"Startups find it very hard to raise B and C rounds," he said. "The lucky few that still can, have to swallow valuation levels often less than half of what they expected just a couple of months ago."
For Kungfu Bear, that meant three investors pulled out in August after signing deals, leaving the firm short of money, Meng said in the original interview. The trouble was reported in Chinese media. In September, masseurs began picketing and claimed unpaid wages.
To attract new investors, the pair had to offer equity at a discount to what earlier investors paid, Meng said. Startups dread those so-called down rounds because they can hurt morale and sap momentum.
China acquisitions have surged 80 percent last year to $515.6 billion, with domestic deals in the Internet industry quadrupling to $67.4 billion, according to data compiled by Bloomberg.