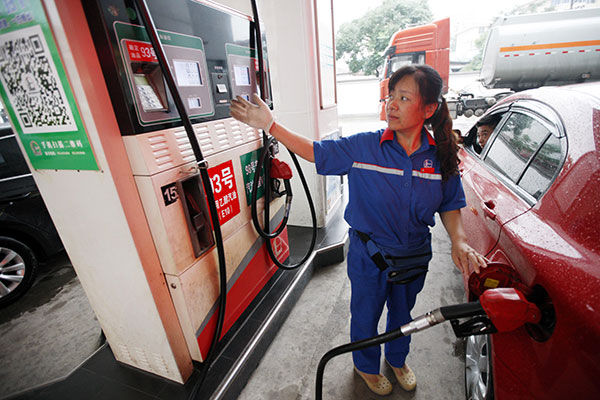 An attendant filling gasoline onto a car at a Sinopec gas station in Huaibei, Anhui province. [Photo/China Daily]
China has for the first time set the lower limit of its domestic petroleum price at $40 per barrel, citing environmental concern, according to top price regulator the National Development and Reform Commission (NDRC) on Wednesday.
At the same time, NDRC lowered the domestic gasoline and diesel price by 140 yuan and 135 yuan per barrel respectively, effective Thursday. That cut is equivalent to a 0.1 yuan cut for a typical gasoline and 0.11 yuan cut for a typical diesel.
The $40 bottom means China would not lower the price even if the international oil price falls below it. NDRC also set the upper limit at $130 per barrel, a number that few expect would be reached in coming years.
The lowing is a long overdue move as international oil prices, such as for benchmark Brent crude fell to a 12-year low of $32 per barrel.
"A too-low fuel price would deepen China's dependency on the external oil market, which has already reached 60 percent. It is also detrimental to air quality and the shift toward more use of new energy," the NDRC said in a statement.
The NDRC said the bottom was set at $40 as it had considered various factors: domestic production costs, the long-term trend of international oil prices and China's energy policy.