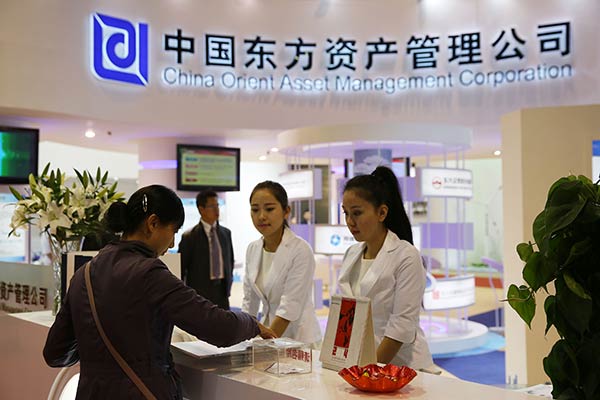 The China Orient Asset Management Corp stand at an industry expo in Beijing.PROVIDE TO CHINA DAILY

State-owned asset management firm likely to bring in strategic investors
China Orient Asset Management Corp, one of the four largest Chinese asset management companies, has unveiled restructuring plans that could see the addition of strategic investors and an eventual listing of the company.
Wholly owned by the Ministry of Finance, China Orient has signed an agreement with the National Council for Social Security Fund to establish a joint-stock company China Orient Asset Management Co Ltd. The new company is expected to be registered formally after it gets the necessary regulatory approval, sources said.
Liang Senlin, director of restructuring operations at China Orient, said the Ministry of Finance has contributed 98 percent of the registered capital for the to-be-formed company and the National Council for Social Security Fund the other 2 percent.
"Once the company is officially established, we'll immediately start the process of inviting strategic investors that could either strengthen or complement our company in terms of development strategies, business structures and brand impact. Following that, we will go in for a public listing of our group either in or outside China," he said.
Li Xin, vice-president of China Orient, said: "Our company is close to the end of a shareholding reform, which means it will transform from a policy-based financial institution into a market player that is an independent legal entity with sustainable development capabilities and sound corporate governance."
The company will also complete the acquisition of a 50.29 percent stake in Bank of Dalian Co Ltd, a city commercial bank headquartered in Northeast China's Liaoning province.
Li said: "Once the regulators approve the acquisition, China Orient will have a full set of financial business licenses and thus join the mainstream camp of financial institutions. After the group builds a full-cycle supply chain, it will reduce business cycle volatility and significantly improve overall anti-risk capability."
Founded in 1999, the company developed its business structure as a financial service group during the past five years.
The company's businesses have expanded from the disposal and restructuring of nonperforming assets to a wide range of areas, including insurance, securities, trust, investment banking and Internet finance.
Li said China Orient will have strong prospects in supporting the development of the service sector with multiple types of financial business. Its subsidiaries are required to maintain growth at a level above the industry average.
The group posted a net profit of 8.23 billion yuan ($1.25 billion) during the first nine months of 2015, rising 24.54 percent from the previous year. Its annualized return on assets was 3.64 percent and the nonperforming loan ratio of its commercialized business was 0.47 percent. By the end of 2014, its total assets had reached 316.5 billion yuan.
Separately, China Great Wall Asset Management Corp, another leading asset management firm, is also making preparations for an initial public offering.
Hu Jianzhong, its vice-president, said it will soon complete a shareholding reform and the management team is planning to launch a joint-stock company this month.
The new company will begin inviting strategic investors in the second quarter of this year, selling about 20 percent of its stake.
"We expect to meet the requirements of an IPO in Hong Kong and the Chinese mainland in the first half of 2017. Then we'll pick the right time and place for the company to get listed," he said.