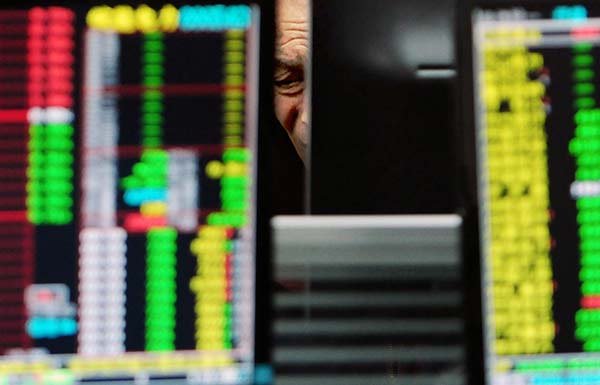 A small investor checks out market information at a brokerage in Jiujiang, Jiangxi province. [Photo by Hu Guolin/China Daily]
Investors see in the suspension of circuit breakers a sign market regulator may improve the rules of the game
After experiencing the market free fall that wiped out 24 trillion yuan ($3.66 trillion) last summer, Wang Jiajie found herself disillusioned again by the tumultuous Chinese stock market in the first week of this year.
The 35-year-old white-collar worker in Beijing saw her wealth of 300,000 yuan evaporate within a week. The loss was equivalent to her entire salary of last year.
"My whole-year earnings have gone down the drain," she said in despair with the memory of the summer market rout still fresh in mind.
Wang, like the rest of the A-share investors, were disenchanted by the steep market meltdown with the benchmark Shanghai Composite Index tumbling by as much as 12 percent in the first week of 2016, the worst-ever start to a year in the 25-year history of the Chinese market.
China stocks closed down on Monday at their lowest since September, following weak inflation data over the weekend and continuing investor anxiety over the economy and the trajectory of the yuan. The CSI300 index fell 5.0 percent, to 3,192.45, while the Shanghai Composite Index lost 5.3 percent, to close at 3,016.70 points on Monday.
The A-share market shutdown twice in four days last week was also unprecedented as the newly introduced 7% circuit breaker mechanism got triggered, resulting in trading halts across the equities, index future and option markets.
"My mind went blank when the market shut down. I didn't know what to do except stare at the loss that the green numbers on my computer screen signified," Wang said.
Under intense pressure from the market, the China Securities Regulatory Commission abruptly suspended the new circuit breaker system four days after its introduction as it was blamed for causing panic selling and exacerbating liquidity crunch.
The regulator moved swiftly to calm the market. It extended restrictions on stock sales by major shareholders of listed companies. It pledged to "appropriately manage" initial public offerings to prevent new share sales from draining market liquidity. Yet, the nervousness among investors continued.