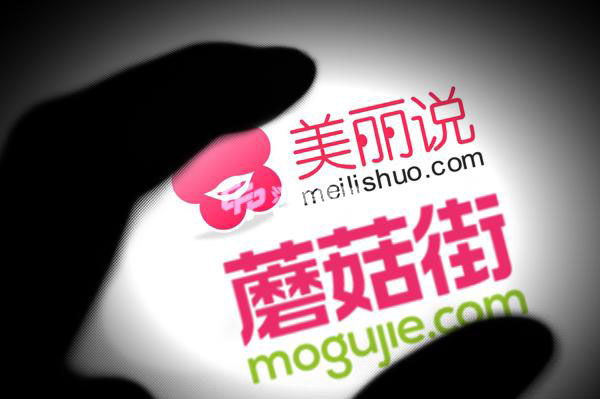 Meilishuo.com has joined forces with rival Mogujie.com, marking one of the country's most significant e-commerce marriages to date.[Photo/CFP]

Combined business of female fashion shopping platforms could be worth $3 billion, say sources
China's two biggest female fashion shopping sites have merged, creating a combined business worth an estimated $3 billion.
Meilishuo.com has joined forces with rival Mogujie.com, marking one of the country's most significant e-commerce marriages to date.
The deal will be completed via the exchange of shares, with Tencent Holdings Ltd-Meilishuo.com's main shareholder-increasing its stake in the new company, according to an e-mail statement to employees on Monday by Chen Qi, the Mogujie CEO, who will assume that position in the merged business.
Xu Yirong, the CEO of Meilishuo, said he fully supported the tie-up.
The Meilishuo and Mogujie brands will continue to operate independently and their original organizational structures and management will remain unchanged, they said.
Wang Xiaoxing, an analyst at Analysys International, said the two sites made the decision under pressure from shareholders, and that the expanded scale and increased valuation would help it drive toward an eventual stock market listing.
The merger, however, would do little, he said, to affect the ongoing e-commerce domination of Alibaba Group Holding Ltd and JD.com Inc, as the combined market share of the merged company is still small.
The online consolidation follows other similar recent moves, including by online travel agency Ctrip.com International Ltd and Qunar Cayman Islands Ltd, and group-buying sites Meituan.com and Dianping Holdings Ltd.
Launched in 2009, Meilishuo focuses on fashion products including clothes, handbags, shoes and cosmetics and has more than 100 million registered users.
In August 2014, it got funding from Tencent, Hillhouse Capital Management and other investors.
Mogujie was founded two years later and is backed by IDG Capital Partners.
It has 130 million registered users and raised more than $200 million in November in funding led by Ping An Ventures.
Mo Daiqing, an analyst at China E-Commerce Research Center, said: "As well as Mogujie and Meilishuo, the Chinese online market for female shoppers includes leading names such as Vipshop Holdings Ltd and Jumei International Holding Ltd-so it is becoming saturated.
"Mogujie and Meilishuo's business models could be copied and it is difficult for them to stand out among so many e-commerce platforms," said Mo.
"Having said that, this is still unlikely to usher in a market recovery in 2016, after the sector underwent a chilly time for raising capital last year.
"A merger at this point is beneficial to both companies, and collaboration is their best choice."
Statistics from iResearch Consulting Group, the Internet consultancy, estimates that online trading is expected to have reached 3.99 trillion yuan ($606 billion) in 2015, from 2.79 trillion yuan in 2014, a 43.1 percent growth.
In the B2C market, the top three online shopping sites were Alibaba's Tmall (60.4 percent), JD (19.5) and Vipshop (3.0) in 2014, in terms of total online retail market share.
Meng Jing contributed to this story.