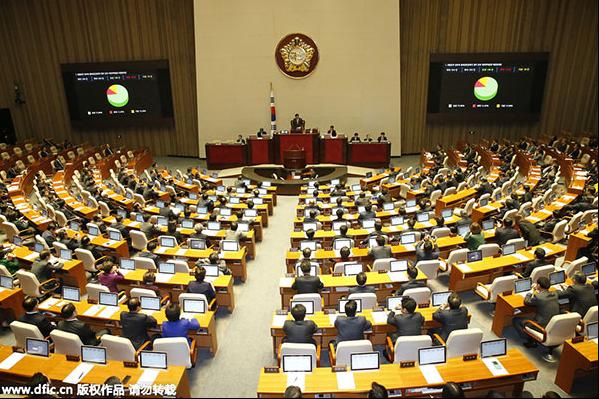 South Korea's parliament ratifies its free trade agreement (FTA) with China during the plenary session, Nov 30, 2015.[Photo/IC]
FTAs boost prospects of goods and services
The China-South Korea and China-Australia free trade agreements that took effect this month promise to boost exports of goods and services, and overseas investment by Chinese companies.
Chinese tariffs on 95 percent of imports from Australia are being lifted. Similarly, hurdles are being lowered for Chinese businesses to invest in Australia. Thanks to increase in Australian visas, more travelers from China will be able to go Down Under.
China will remove tariffs on 91 percent of South Korean imports within the next 20 years. For its part, Seoul will eliminate tariffs on 92 percent of Chinese products.
The two FTAs will likely speed up negotiations on other similar agreements, like the China-Japan-South Korea FTA, the China-Norway FTA and the China-Gulf Cooperation Council FTA. Negotiations on the Regional Comprehensive Economic Partnership may also get a boost.
-ZHONG NAN