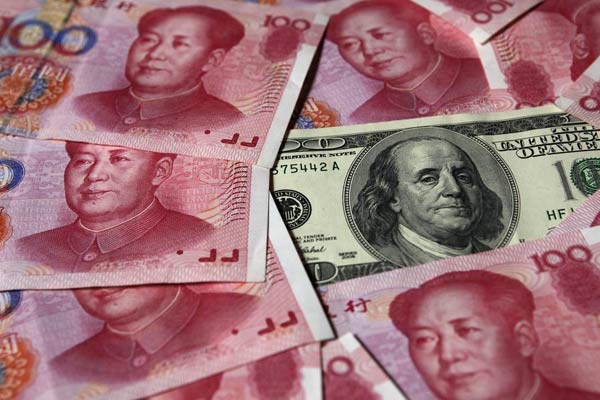 A $100 banknote is placed next to 100 yuan banknotes in this October 16, 2010 file picture illustration taken in Beijing. [Photo/Agencies]
Magic of monetary measures takes effect
The International Monetary Fund decided to include the Chinese yuan as the fifth currency in its Special Drawing Rights basket, effective on Oct 1, 2016, making China the first developing country to join the group in the post-Bretton Woods era.
At home, the People's Bank of China, the country's central bank, cut the benchmark deposit and lending rate six times since November 2014 to lower financing costs and step up financial support to the real economy.
The current one-year benchmark deposit rate stood at 1.5 percent, compared with 3 percent before Nov 22. The one-year benchmark lending rate dropped from 6 percent to 4.35 percent in the same period. Benchmark deposit and lending rates for other maturities were adjusted accordingly.
As the economic growth is still under downward pressure, the PBOC will continue to use monetary policy instruments for economic adjustment to create a favorable environment for steady and healthy development of the economy.
The rate cuts intensified competition among banks even as their net interest margins shrank further, squeezing profits. Analysts said listed lenders in China may see zero or negligible profit growth in 2016, with some likely to incur marginal losses.
-JIANG XUEQING