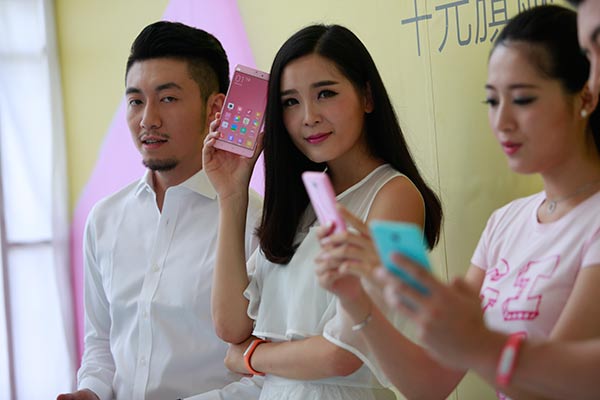 Xiaomi Corp releases its new OS MIUI 7 on Aug 11, 2015. [QUAN YANJUN / FOR CHINA DAILY]
Smart are phones, but dull is their growth
The Chinese smartphone market stopped growing this year. Research firm IDC said in mid-2015 the market contracted by 4 percent year-on-year in the January-March period, the first quarterly decline in six years.
Although shipments increased later on the back of new product rollouts, the market bid bye to double-digit growth. Sales are now driven by users buying replacements or upgrading to higher-end handsets, which spells high penetration rate but low growth.
Market leader Xiaomi Corp missed its 2015 sales target and ceded its top slot to Huawei Technologies Co Ltd that lowered prices of many of its high-end devices. But for its premium Galaxy series, Samsung Electronics Co could have got ejected from the handset market in China.
In 2016, Chinese handset makers may pin their hopes on India, which has the potential to be another China, in terms of smartphone sales. Indonesia and West Asia also hold out hope.
-GAO YUAN