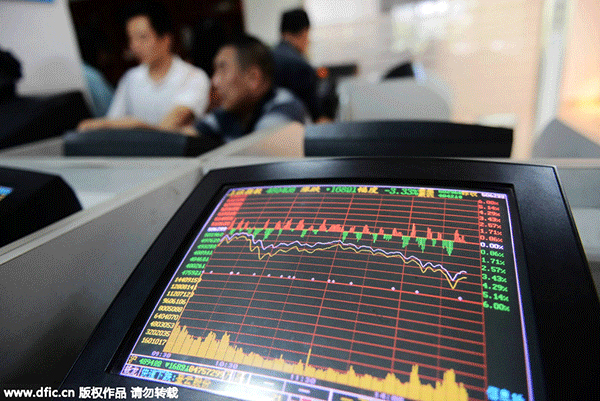 Investors at a securities brokerage in Qingdao city, Shandong province, Jun 16, 2015. [Photo/IC]
Gradual steps to ensure smooth transition, say capital market sources
Analysts expect registration-based initial public offerings, the biggest reform ever planned for China's stock market, to be launched as early as the first half of 2016, as legal procedures required for the system are pushed forward.
The legal procedures are expected to be completed as early as the end of this month, after an executive meeting of the State Council on Wednesday discussed a draft seeking authorization from the top legislature to implement registration-based IPO mechanism at the Shanghai Stock Exchange and Shenzhen Stock Exchange.
Related government organs are expected to work out detailed regulations regarding the implementation of the new system and the supervision levels required after listings, according to the circular from the State Council, and the China Securities Regulatory Commission said it is now starting work on those.
Dong Dengxin, a securities researcher with Wuhan University of Science and Technology, expects the CSRC to publicize a draft on implementation of the registration-based IPO system and seek public opinion, by the end of this month.
Technically speaking, that means once the top legislature authorizes the CSRC to implement the system, the registration-based IPO reform will be effectively launched, Dong said.
The authorities and market insiders said the IPO reforms will take place slowly, meaning little short-term impact on the stock market.
A circular from the CSRC on Wednesday evening said that registration-based system will be pushed forward gradually. Limits on the number of new shares on offer at any given time will not be deregulated immediately, meaning there will be no large numbers of new shares flooding the market at the same time.
The circular also said that after the implementation of the registration-based mechanism, enterprises will be listed based on their existing positions on the IPO waiting list, which will ensure a smooth and orderly transition from the approval-based system.
Currently, around 1,000 companies have submitted IPO applications, 60 percent of which are Growth Enterprise Market listings, according to data of Shanghai Wind Information Technology Ltd.
Liu Chenjie, an analyst with Beijing Gao Hua Securities Co Ltd, estimates the potential value of those to be 280 billion yuan ($43.61 billion) in 2016.
"That equates to just 0.7 percent of the total free-float market cap, and is lower than the historical average of 2.6 percent since 2000, implying a modest liquidity impact but potential temporary panic, especially around March 2016 as the market adapts to the reform to new IPO registration regime", Liu wrote in a research note.
Li Daxiao, chief economist at Yingda Securities Co Ltd, said that it is essential to maintain a balance between supply and demand for new shares on offer to ensure market stability.
The registration-based IPO system will bring about long-term profits to China's equity market, said analysts.