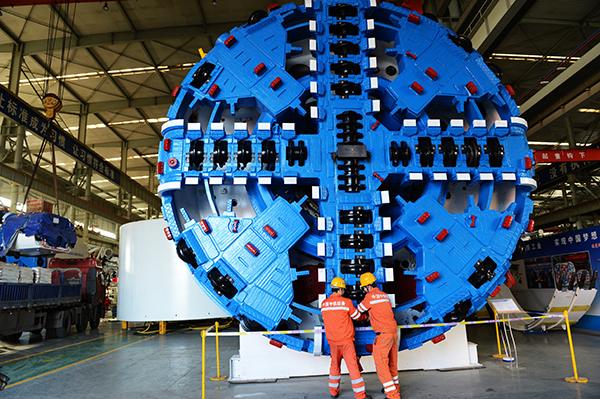 Engineers at China Railway Engineering Equipment Group Co test a self-built giant new tunnel boring machine in Zhengzhou, capital of Henan province. The massive device will be soon be shipped to Singapore for subway tunnel construction. [Xiang Mingchao/China Daily]
Railway engineering equipment firm plans global network of service centers
A team of technical engineers dressed in orange jumpsuits and yellow helmets have been carrying out testing on a giant new tunnel boring machine in Henan province's capital Zhengzhou.
The huge structure, used to dig tunnels for underground railways and mining projects, is almost the same length as a three-wagon train. The machine, colloquially known as a "mole" in the construction industry, is cylindrical with metal cutters at its front designed to slice through the hardest rock.
Built by China Railway Engineering Equipment Group Co, the massive device will be soon be disassembled and shipped to Singapore, for use there on the construction of a new subway tunnel.
Officials at CREG, the construction machinery subsidiary of China Railway Group Ltd, said they expect to keep expanding this lucrative type of specialist engineering work into other key foreign markets next year, after enjoying their best ever year.
It sealed 80 new contracts worth a total value of 2.63 billion yuan ($410 million) in 2015, 15 of which were overseas, including in Singapore, Vietnam and Malaysia.
Turnover reached a record high of 2.3 billion yuan, an annual increase of 24 percent, thanks to favorable conditions in the Chinese market, and its ongoing overseas push.
It made its first international incursion in 2012, and Richard Han, marketing manager of its overseas business division, said its eyes are now firmly on Europe, particularly the United Kingdom, while continuing to grow in Southeast Asia. It also plans to target Chile and Brazil in the future.
In September, during a visit to China, UK Chancellor of the Exchequer George Osborne encouraged bidding from Chinese firms on some $18 billion of contracts to build a high-speed rail line from London to the center of the country.
CREG's parent was reported to be interested in participating in a section of the project. "We see many opportunities for growth in the UK market. Additionally, the UK also wants to upgrade its nuclear energy industry, and its gas transmission pipelines," said Han.
To continue with this global expansion, CREG is opening marketing centers in different parts of the world to offer local project management services, as well as handle tender and bid processes on overseas projects.
It already has a center open in Germany to handle European work, and ones in Singapore and Hong Kong to manage its Asian and African projects. Centers are planned for Australia and Brazil next year, too, to service the Oceania and American markets.
"Establishing the regional centers will allow us to focus on potential projects before feasibility studies are even started," said Han. The government's Belt and Road Initiative, he said, will provide a huge boost to the export of Chinese-built construction machinery, and presents rich business opportunities for firms like CREG.
Customs figures show that Chinese exports of machinery and transportation equipment rose 2 percent in 2014 to 6.5 trillion yuan.
The company is also considering foreign acquisitions next year to secure more orders and reduce its own manufacturing costs, he said.
Qi Xin contributed to this story.