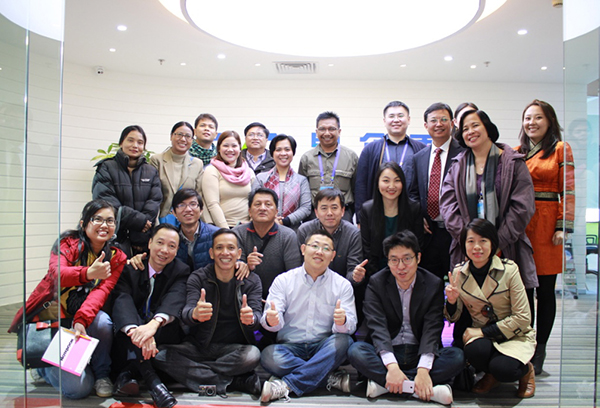 Agriculture officials and directors of Beijing KNET Eqxiu Technology Co Ltd gather for a group photo. [Photo provided to chinadaily.com.cn]
Chinese Premier Li Keqiang pointed out in the 18th China-ASEAN (10+1) Leaders' Meeting last month that China is promoting mass entrepreneurship and innovation, and suggested more joint efforts in Internet and technology during agricultural development.
Jamaluddin Lani, an officer from the department of Agriculture, Malaysia, sees Hypefolio as an original technological innovation and a big opportunity for Asia's development not only in agriculture, but also in other industries.
Existing problems, including the English version only being available on Apple's App Store and the lack of experience in overseas promotion require the app to keep marketing progress on the global scale.
KNET Eqxiu established a subsidiary in Silicon Valley in the United Sates in October. Wang Wei, chief engineer of KNET Eqxiu introduced said: "We are planning to publish multi-lingual versions of Hypefolio in addition to Chinese, English, Japanese and Korean".