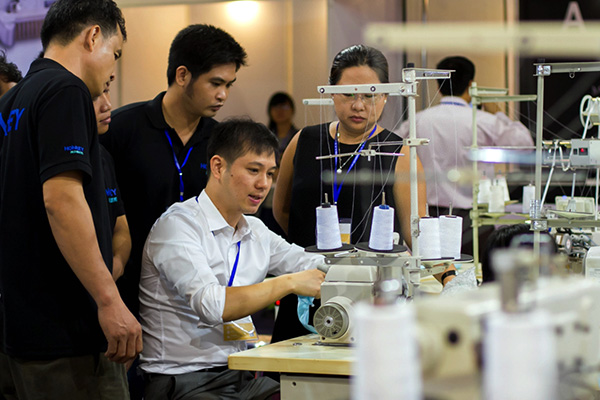 A Chinese technician displays sewing equipment at an expo in Ho Chi Minh City, Vietnam, on Oct 21, 2015. [Photo/Xinhua]
Vietnam is becoming a "hot spot" for Chinese textile manufacturers when they look to build factories overseas.
One of the main reasons is that apparel produced in the Southeast Asian country for the United States market will be tariff-free after last month's Trans-Pacific Partnership agreement.
Huafang Co, a textile business in Shandong province, plans to set up a high-end fabric factory in Vietnam with a 700 million yuan ($110 million) investment. This will be the company's first overseas factory.
Another 150 million yuan will be pumped into a research and development center in Vietnam to look into new technologies covering the whole industry chain, including cotton, spinning, weaving and dyeing.
Huafang, which is listed on the Shanghai Stock Exchange, is planning to issue about 120 million shares for corporate investors, with an issuing price of about 7.4 yuan per share. This will help the company raise 900 million yuan to finance its Vietnamese project.
"Before the zero-tariff policy reached by the TPP, many labor-intensive Chinese industries had already shifted to Southeast Asian countries," said Zhang Jianping, a senior researcher at the Institute for International Economic Research under the National Development and Reform Commission. "The labor costs there are four to five times cheaper than in China.
"Here, the country is undergoing an economic transformation. In China's developed coastal regions, high-tech industries are springing up to replace labor-intensive industries," he added. "The trend has been gathering pace, and the new policy will speed up the process."
Vietnam has become a major importer of fabrics and a leading exporter of clothing. But weak domestic production has left local companies struggling to cope with international demand.
That was another key factor in Huafang's decision to set up a manufacturing center in Vietnam. Now the company plans to set up two production lines, although it will take up to three years to build the plant.
Pei Chunqu, former deputy minister of trade and industry in Vietnam, said that in the past decade, the textile industry in the country has been growing slowly.
Luen Thai International Group, which is Hong Kong's largest clothing company, Sanshui Jialida TextileCo, based in Guangdong province, and Vietnam's Vinatex Co are planning to establish a textile industrial park.