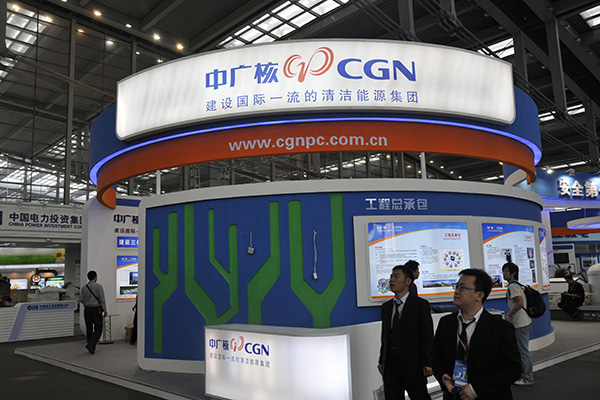 The booth of China General Nuclear Power Corp at an expo in Shenzhen, Guangdong province. [Photo provided to China Daily]
Qatar's Nebras Power QSC is in talks to partner with China General Nuclear Power Corp in the bidding for 1Malaysia Development Bhd's power business, people with knowledge of the matter said, potentially pitting a foreign consortium against Malaysia's biggest listed energy producer.
The overseas bidders have expressed willingness to pay a higher price for the state investment company's Edra Global Energy Bhd unit than Malaysia's Tenaga Nasional Bhd, the people said, asking not to be identified as the negotiations are private. Tenaga, a Kuala Lumpur-listed utility controlled by the nation's sovereign fund, is wary of overpaying because it needs to justify any acquisition to shareholders, one person said.
The Malaysian ringgit has fallen about 19 percent this year, turning it into the worst-performing currency in Asia and making it cheaper for foreign bidders to buy the 1MDB power plants. Investor fears are easing that Tenaga will be told to perform "national service" by acquiring assets from 1MDB at an inflated price, said Ang Kok Heng, who helps manage $630 million as chief investment officer at Phillip Capital Management Bhd in Kuala Lumpur.
"If the deal doesn't go through, it's good for Tenaga," Kaladher Govindan, head of research at TA Securities Holdings Bhd, said by phone. "Even if it goes through, their pricing is at the lower end, so it's a win-win situation for both parties."
1MDB, the debt-ridden state investment company that almost defaulted earlier this year, expects 16 billion ringgit ($3.8 billion) to 18 billion ringgit for the power plants and has received bids close to that figure, company president Arul Kanda said on Oct 31. The sale is part of 1MDB's plan to wind down its operations after it drew criticism from lawmakers for rising borrowings that totaled 41.9 billion ringgit as of March 2014.
Foreign investors are normally only allowed to own as much as 49 percent of Malaysian power producers unless they obtain a waiver, as the government provides gas to electricity plants at subsidized prices. It is not yet clear whether foreign bidders for 1MDB's power plants will be able to obtain an exemption, according to the people.
State-owned China General Nuclear entered the bidding after its Hong Kong-based clean-energy arm, CGN Meiya Power Holdings Co, decided not to pursue an offer, according to the people. A preferred bidder is expected to be chosen this month, two of the people said.
1MDB, whose advisory board is headed by Prime Minister Najib Razak, said it expects to enter into a definitive agreement with the winning bidder before the year-end.
1MDB "is bound by confidentiality and can't comment further at this time," it said in an e-mailed statement. Malaysia's Ministry of Energy, Green Technology and Water didn't immediately respond to an e-mail seeking comment. A spokesman for China General Nuclear declined to comment.
Tenaga, which last month reported that its fourth-quarter profit fell almost 40 percent, has said its ownership of the 1MDB power plants would ensure "continuing Malaysian control" of those "strategic" assets. It said 1MDB's assets would enhance its earnings and cash flow by boosting its domestic power generation capacity and broadening its global presence.