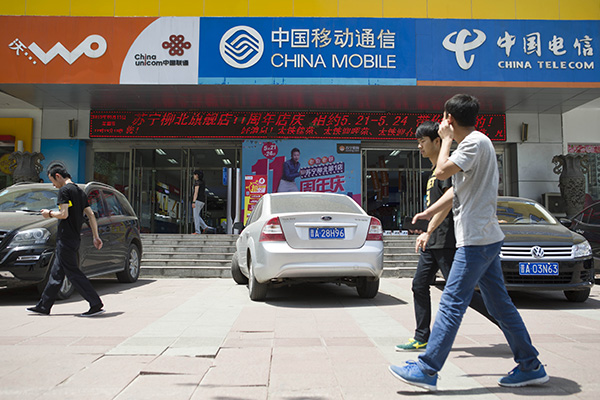 Pedestrians walk past a telecom services outlet in Taiyuan, Shanxi province. Shares of China United Network Communications Ltd surged by 6.96 percent to 7.07 yuan ($1.1) on Nov 5, 2015. [Photo/China Daily]

Regulator swears by reforms and says it is aware of the situation
Shares of telecom companies surged on Thursday after the industry regulator reiterated its commitment to further reforms in the sector.
The Ministry of Industry and Information Technology, however, did not confirm reports about the planned consolidation of telecom companies.
Zhang Feng, spokesman and chief engineer for the ministry, said in Beijing that development and merger of enterprises are determined by market demand, and the ministry is taking stock of the process and direction of reforms in the telecom sector.
Responding to queries on whether the merger of telecom carriers will happen during the next round of reform of State-owned enterprises, Zhang said: "The just-concluded Fifth Plenum of the 18th Communist Party of China Central Committee has mentioned that the telecom industry needs further in-depth reform. We will consider and study the reform plan and consider unified deployment. No progress has been made with regard to the merger proposal."
China United Network Communications Ltd, also called China Unicom, surged by 6.96 percent to 7.07 yuan ($1.1), while Besttone Holding Co Ltd, a subsidiary of China Telecommunications Corp, surged 7.37 percent to 23.61 yuan.
Since the start of this year, there have been media reports that the government is considering pushing forward mergers for the country's State-owned telecom service providers to improve efficiency and accelerate modernization of the sector. The reports had hinted at a merger plan for China Telecom and China Unicom.
The regulator had denied these reports, adding that there was no such plan in the works. China Telecom and China Unicom also denied the merger reports.
However, the three telecom carriers saw huge management reshuffles in August, triggering speculation that the long-awaited reform may be on the way.
Zhu Dalin, an analyst at Beijing-based Internet consultancy Analysys International, told China Daily: "There are no signs to show that the three telecom giants are considering a merger as they have their own infrastructure, 4G licenses, base stations, fixed-line and broadband services. They also have their own markets and users. There is already healthy competition among them."
Zhu said he does not expect the three telecom carriers to merge in the near future.
"However, they may carry out cooperation in areas like sharing of resources, jointly constructing infrastructure such as iron towers, base stations and related telecom facilities, to reduce costs and enhance Internet speeds."
As the three State-owned telecom giants move into a transitionary phase, more capital from private enterprises will flow into the sector, Zhu said, adding that their future development will hinge on market demand.
The three telecom giants established a joint venture company called China Tower Corp Ltd in 2014 to share infrastructure and save on operational costs.