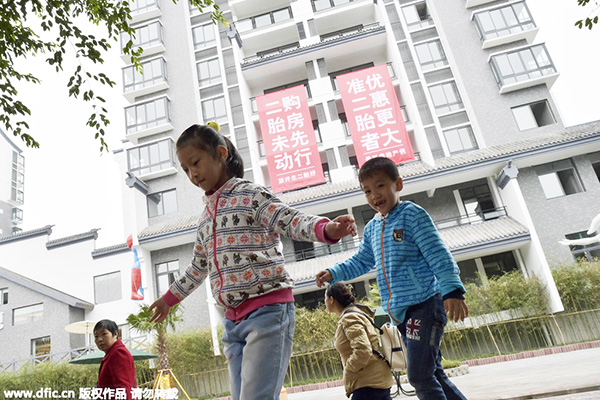 Children play at a residential community in Chongqing, where a local property developer has launched a promotional campaign that offers special discounts on new apartments for families with two children. [Photo/IC]
Businesses are hoping the new two-child policy will help boost growth. Below are the three key sectors:
Real estate
The demand for larger homes looks certain to increase as couples decide to have a second child. Since Chinese families want the best education for their children, parents prefer to buy an apartment in the districts that contain the leading schools.
A second-hand apartment in Beijing's Haidian district, where most of the city's top schools are located, costs between 60,000 yuan ($9,463) and 100,000 yuan per square meter.
Despite being expensive, these apartments are in great demand as there is a short supply of high-quality homes in the area. The two-child policy will only add to the problem.
In addition, affluent families are likely to help their grown-up children buy an apartment. This will fuel demand for properties when the population increases.
During the past decade, population growth has been an important demographic factor for the real estate industry, and the expansion of China's property market. The sector certainly benefited from the "baby boom" from 1980 to 1990.
Though the two-child policy is likely to trigger a gradual increase in the population during the short term, it is unlikely to reverse the declining real estate market, according to Internet giant Baidu.com.
Child care
Apart from companies that manufacture baby formula and other child-care products, hospitals are expecting to see increased demand. But many experts are unsure how strong that growth will be.
"The loosening of the family planning policy will help to restructure the population, but it is unlikely to create a baby boom," Hu Lan, founder and chief executive of AmCare Corp, a high-end hospital group providing women and children with medical services, said. "Many couples will be unwilling to have more children because of the high costs of raising them.
"This year, for example, is the Year of the Goat. Traditionally, Chinese families are not keen on having their babies born during that sign," she added. "That is one of the reasons why we haven't seen a significant growth in the number of births."
Still, online companies specializing in child-care apps have proved popular.