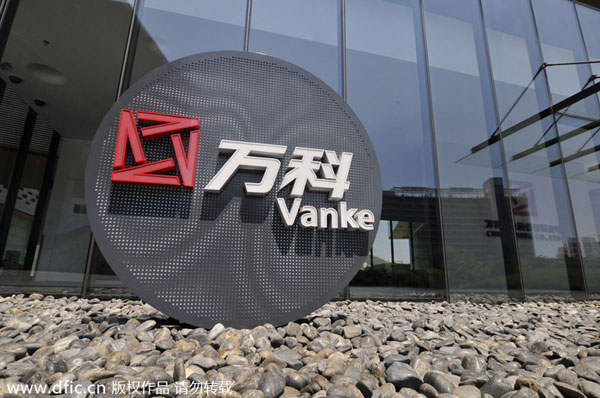 View of the headquarters of China Vanke Co Ltd in Shenzhen city, South China's Guangdong province. [Photo/IC]
BEIJING - China Vanke, the country's largest property developer by market value, has banned the custom of calling superiors "boss," according to an internal notice from its Shanghai branch revealed online.
The move, approved by general manager of the firm's Shanghai branch, Sun Jia, aims to strengthen partnership, cooperation, and shared responsibility, according to the notice.
Under this new rule, employees can no longer call their superiors "zong," the Chinese term for leadership titles. Those who break the new rule will be fined 100 yuan ($16).
The regulation suggests that employees use people's given names or nicknames, as long as they are suitable for the workplace.
The new rule shows the company is adjusting its management structure, "Daily Economic News" quoted real estate expert Xue Jianxiong as saying.
"It's not easy for the company to transform from bureaucracy to partnership. Such a move shows Shanghai Vanke is determined to cut through red tape and boost inner vitality," Xue said.
Traditionally, Chinese people use appellations to show respect to their elders and superiors, this was replaced by the use of "comrade" in 1965.
However, as China developed rapidly due to the reform and opening up, the title "boss" became more popular then "comrade," even within Communist Party of China (CPC) organizations.
The firm's rule follows similar moves in east China's Jiangxi province, where CPC members in May were told not to call their superiors "boss" or "head." Last year, the provincial Party committee of Guangdong in south China banned vulgar appellations such as "bro'."
On social media, opinion is mixed. One netizen on Weibo, "Albert_qingdao," said Vanke's goodwill may not work. While another argued that the ban is "a step toward becoming better." Another Weibo user, "Eyes like stars," hoped there would be similar changes at her "hierarchical company."