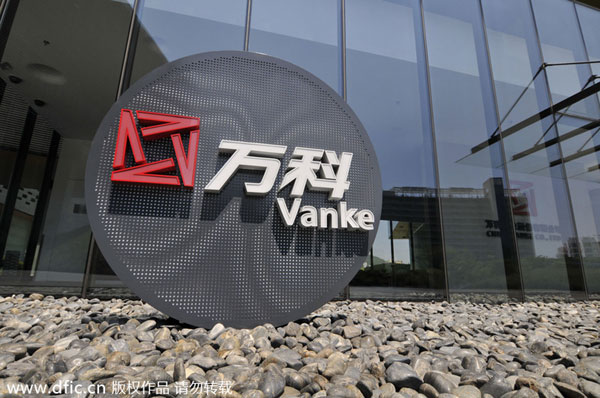 View of the headquarters of China Vanke Co Ltd in Shenzhen city, South China's Guangdong province. [Photo/IC]
Vanke, China's largest residential property developer, will enter China's decoration industry in cooperation with the country's leading real estate agency, Homelink, according to the company's top management.
The two companies will establish a B2C decoration company named "Vanke Homelink", with Liu Xiao, vice president and general manager of Vanke Co Ltd, as the new company's president.
"The market value of Vanke Homelink will equal that of Beijing Vanke within three years. It is likely that the new decoration company will go public as an independent company," Liu said.
"This is not a mission impossible. I wouldn't have started it if I was not sure that it could be done," Liu said.
Vanke partners with Homelink out of many considerations. Homelink accounts for half of the total sales in Beijing's secondhand housing market. The online residential leasing agency Ziroom, established by Homelink, has much experience in décor, according to Liu.
"Vanke's strong capacity in cost control and its well-established brand will make Vanke Homelink stand out in the decoration industry. And its dominant position in the market, once established, will be unshakeable," said Liu.
Expanding operations to the downstream of the industry chain by joining hands with other companies is one way for real estate developers to transform in this era.
Traditional home décor companies struggle to thrive in the highly competitive market, featuring small-cap transactions, oversupply of similar products and a long supply chain.
This is not the first time that the two companies forged cooperative ties. Last September, they signed a strategic deal to set up omni-channel covering customer enquiries to tailored services.
The deal allows Vanke's potential clients of to check information on Vanke's apartments through Homelink's platform and even sign a deal at Homelink's outlet.
In the first half of this year, Beijing Vanke's total sales reached 10.3 billion yuan ($1.7 billion), up 10 percent year-on-year. Its profit also jumped 50 percent.
Meanwhile, as part of its efforts to diversify its business portfolio, Beijing Vanke will launch in the second half of 2015 its first high-end villa product dubbed "Guancheng Villa" in the Central Villa District of the Shunyi District in northeast Beijing. The homes will be priced at 15 million yuan to 20 million yuan per unit.
The company has set up a high-end property department to better carry out its strategic plan to tap Beijing's high-end real estate market and has so far released four high-end projects in Beijing.
Vanke Co Ltd's transaction volume in the first half of 2015 approached 110 billion yuan, topping the list of the leading real estate developers.
"It is high time that Beijing Vanke should reconstruct and transform," Liu said.