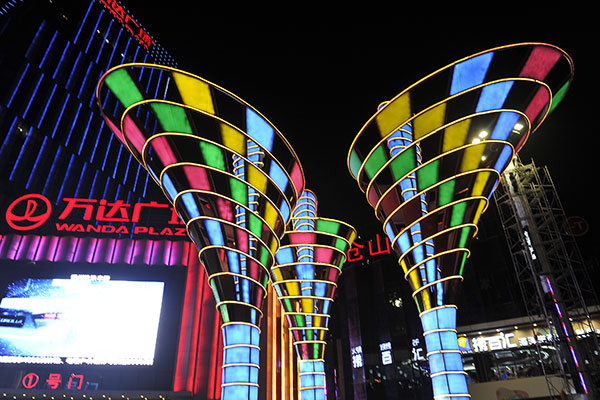 Dalian Wanda Group Co Ltd, the commercial real estate giant, last month launched an online crowdfunding project to fund new malls, which generated an Internet buzz. [Photo/China Daily]
Wanda Group's decision to raise money online to help develop major shopping center projects has caught the public's imagination
Crowdfunding has taken on a whole new meaning in China. When it first became popular in the United States and Europe in 2003, it centered around small startup companies looking to raise money by enticing a few hundred investors.
But here crowdfunding has reached a different level with the country's leading commercial real estate player using the investment model to finance multibillion-yuan construction projects.
On June 12, Dalian Wanda Group Co Ltd generated an online buzz when it invited small investors to put their hard earned cash into the construction of five shopping malls.
"Large scale crowdfunded projects around the world have brought in millions (of dollars), but a project on this scale is decidedly rare," Wanda said in a statement. "For a product to launch and sell out so quickly is quite a feat."
Rolled out on the 99Bill.com website, in which Wanda owns a controlling stake, the company raised 5 billion yuan ($806 million) in just three days, with 100 million yuan pouring in during the first 50 minutes. Institutional investors also scrambled to get in on the act.
"We named the product Stable Earner No 1 because that is what it is," Wanda, who reported an 18 percent growth in first half revenue this year compared to the same period in 2014, said. "The funds raised will be invested in a real company and will be exclusively used in construction operations for Wanda Plazas."
The key to the company's crowdfunding success was simple.
Small investors were allowed to take a stake in the company's latest projects for as little as 1,000 yuan or as much as 1 million yuan, which will generate an annual return of around 12 percent.
That is considerably more than the 2.25 percent offered by traditional banks for a one-year deposit account or 5 percent by wealth management funds.
Small investors are also financing the "Wanda Plaza" brand, which is considered a safe option after the turmoil that has engulfed China's stock markets.
"We offer stable returns," the company said. "Under Wanda Group's strong brand appeal, the annual occupancy rates and rental collection rates from its commercial real estate business average more than 99 percent. This is enough to ensure that investors can obtain a stable annualized rate of return."