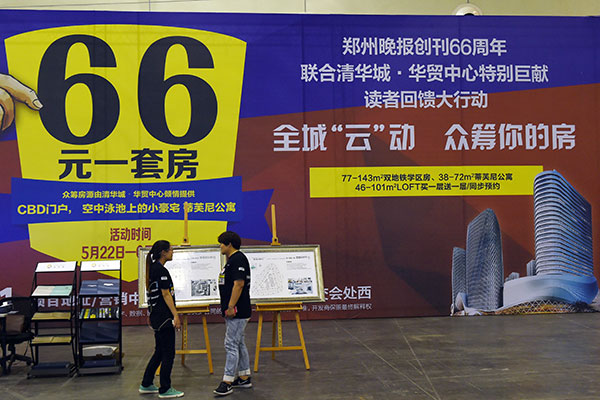 A realty fair held in Zhengzhou, Henan province, featured crowdfunding as a way to buy property. [Photo/China Daily]
Pitching the minimum investment as low as 1,000 yuan has been crucial in generating the sort of excitement that Wanda was looking for.
To illustrate the point, another online financing product launched by Greenland Holding Group Co Ltd, one of the country's property giants, required a 20,000 yuan minimum investment.
"Still, the Internet can help developers collect money in an efficient way," Zhu Mingchun, the Beijing-based co-founder of research firm Yingcan Group, told Bloomberg.
"Compared with individual investors, banks are stricter with lending when it comes to developers because the market has yet to recover."
Crowdfunding has become a global phenomenon. Last year, it raised $16.2 billion worldwide, a jump of 167 percent compared to $6.1 billion in 2013, according to a report released by Massolution, a research company specializing in the industry and based in the US. Growth in Asia surged by 320 percent to $3.4 billion compared to 2013. "This year, we are forecasting that worldwide crowdfunding volumes will more than double again to reach $34.4 billion," Carl Esposti, chief executive officer of Massolution, said.
In China, there are no crowdfunding figures available, but the online financing industry is expected to triple this year to more than 350 billion yuan compared to 2013, analysts have reported.
"China has the biggest online population in the world and people are eager to find new channels of finance," Li Yingying, a venture capital fund consultant, told The Straits Times, the Singapore-based newspaper.
As for Wanda's crowdfunding scheme, the 5 billion yuan raised will be just part of the finance required to build the five shopping centers. But the move is part of a plan to transform the group into a property management company that relies on outside investors to fund major building projects.
"A closer look at the crowdfunding project shows some interesting points," Jin Yu, founder of Dianxindai.com, a property peer-to-peer lending platform, said. "The investors are not taking a share in Wanda Group, so they are not entitled to dividend payments like equity holders."
Wanda put it a different way, describing the scheme as an "innovation in crowdfunding". Investors receive 6 percent on their return from annual rents collected from retail outlets at shopping malls.
The other 6 percent can take between three years and seven years after the project is listed on the Shanghai Stock Ex-change or sold to an investment group. If that does not happen, the company has promised to pay back the original investment with a 50 percent bonus after seven years, which will translate into an annualized rate of between 12 percent and 20 percent.
"Equity crowdfunding" may become the next big trend after being endorsed by Premier Li Keqiang last year in a move to increase innovation and entrepreneural ventures.
"In China, crowdfunding is not really that different from P2P lending," Fu Yichen, an analyst with China Real Estate Information Corp, said. "In the name of equity financing, developers are doing direct debt financing."
Sun Hongsheng, chief executive officer of Zhongchou.com, one of the first crowdfunding websites in China, stressed that there are many different aspects in property investment models from traditional crowdfunding in the US and Europe.
"Investors can participate in a project simply to receive a financial return," Sun said. "They can also get special deals from retailers, win prizes or a combination of all three."
A scheme on his website, launched by resort hotel group Ammo in Sanya, plans to raise 10 million yuan through crowdfunding.
Investors will not only get a financial return from the business operation, they will also receive coupons, which they can spend at the group's chain of hotels. Prizes such as a box of chocolates or dinner for two are other incentives.