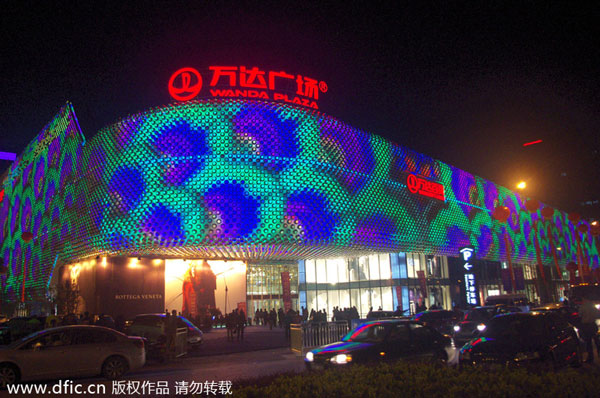 Photo taken on Sept 28, 2013 shows the night view of the Wanda Plaza in Wuhan, Hubei province. [Photo/IC]
Wanda Culture Industry Group, a subsidiary of Wanda Group, signed a 3.58 billion yuan ($577 million) deal with LY.com, an online travel website, on Friday.
Following the agreement, the two companies will cooperate in opening up Wanda's tourism channels and LY.com will have access to Wanda's travel destination resources.
Co-investors include Tencent Industrial Capital and CITIC Capital. The total amount will exceed 6 billion yuan, the largest investment a domestic online travel company has received thus far.
Wanda Group has more than 12 mega cultural and tourism projects that are either about to open or under construction now and plans to invest in another eight similar projects in five years. The number of total park visitors is expected to hit 200 million by 2020.
"By investing in LY.com, Wanda's tourism industry will consist of three major components – online platforms, offline channels and large travel destinations. We aim to build the world's sole O2O model in the tourism industry, accelerate the fulfillment of Wanda's target for its tourism industry, and contribute to the transformation and upgrade of China's tourism industry," said Wang Jianlin, Chairman of Wanda Group.
He had earlier announced that Wanda's fourth transformation aims to increase its market value and profit to $200 billion and $10 billion respectively by 2020. The long-term goal is to reduce the percentage of property income to 30 percent below.
"Wanda has always wanted a transformation due to the declining and the fierce competition of property market in China. With the rapid development of economy, the travel industry has expanded very fast, which allows Wanda to step into this market," said Guo Yi, marketing director of Yahao Real Estate Selling & Consulting Solution Agency.
"After this investment, Wanda can combine the online resources of LY.com with its own tourism projects, thus creating a new tourism value chain," added Guo.
LY.com is one of the leading domestic online travel service providers in China, especially in the scenic spot ticket reservation market. It served about 30 million people in 2014, a 100 percent increase.
"Following Wanda's latest strategic investment, LY.com will give primacy to working with Wanda's travel agencies, Wanda's cultural and tourism cities as well as Wanda's offline commercial resources across and board to jointly build the innovative 'Internet +' model in the tourism industry," said Wu Zhixiang, CEO and founder of LY.com.