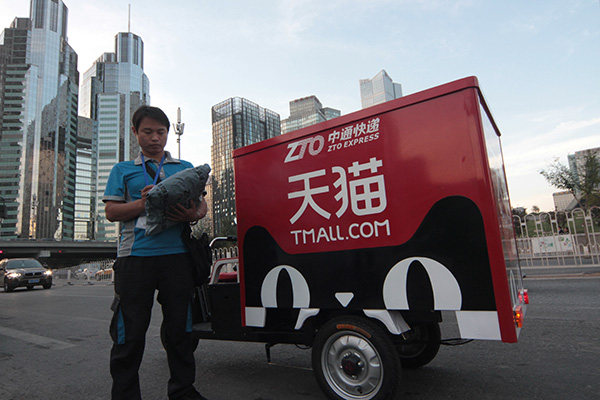 A courier checks a package beside a three-wheeler used for express delivery in Beijing. [Photo/China Daily]
It's almost coming to one month since I relocated from Mumbai to Beijing, and all this talk of India standing to benefit from China's recent economic turbulence is already appearing downright silly.
Enough has been already said about GDP growth rates, stock market, debt and currency levels, oil and commodity prices, current account deficits and impact of the Fed's non-moves, so I won't get started on them. Consensus everywhere is statistics and such have little sanctity these days.
Instead, let me share a few thoughts and observations. Blame the recent glorious Beijing weather-Londoners would trade their lives for it-if my ideas appear too good to be true.
The key to India's prosperity lies not in China's woes but extreme bilateral economic cooperation, which could be a win-win global game-changer. India could even be long-term insurance for China.
It's a no-brainer, actually. Just look at Asia in a world map-you'll probably agree. Wonder why neighbors "IC" have not emerged a powerful coalition within BRICS yet.
On Beijing's roads, as I observe the wide range of two-and three-wheelers, including the silent, smokeless commercial electric vehicles, pizza-delivery mopeds, ultra-small cars, I wonder if they are China's best-kept secret. Not many Indians are aware of these vehicles that could potentially change how China is perceived in India.
Many Indians refer to ubiquitous made-in-China goods as "China maal", a Hindi phrase that has pejorative overtones. "China stuff" is regarded cheap but substandard. That does not stop Indian consumers though from making a beeline for Xiaomi smartphones that sell like hot cakes on e-commerce sites.
China's two-and three-wheelers, including bicycles, I see, are efficient, user-friendly, and cute-design-and size-wise. They appear affordable too. How I wish I could export millions of them to India overnight! India needs them badly. India's two-and three-wheeler makers somehow never invest much in research and development innovation and design.
This could spell a huge opportunity for China. With infrastructure already in place but growth allegedly slowing, all that China needs to do is to facilitate export of these two-and three-wheelers to India.
China's impressive wide roads, spacious pavements, orderly cityscapes, wide range of surface transport and fool-proof electricity apparatus suggest that its expertise in 21st century urban planning and execution of mega infrastructure projects could be a big export item in itself. Knowledge can be monetized.
Andhra Pradesh state's new capital Amaravati is being built by Singapore. It is conceivable that China could bag similar projects in future.
As I was brushing my teeth around 8 am one Monday, the door-bell rang. I was stunned to see JD.com's delivery man with a couple of home appliances I had bought online around 3 pm on Sunday. I learn leading Chinese e-commerce firms are known for super-quick service.