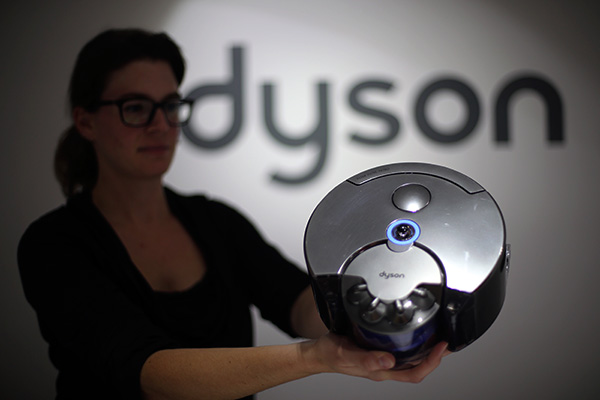 A Dyson employee shows a Dyson 360 Eye robot vacuum cleaner during the IFA Electronics show in Berlin on September 4, 2014. [Photo/Agencies] 
Dyson Ltd, the British home appliance technology company, says China could well become its biggest market within four years, fueled by ongoing air-quality concerns in the country.
Max Conze, its chief executive officer, said the company's turnover was $2.5 billion last year globally, with Asia accounting for over a third of that.
He said Dyson, which produces air purifiers, fans and vacuum cleaners, doubled its China sales last year and he expects it to triple its business this year in the market.
"I very much see China as being one of Dyson's biggest, if not the biggest, market over the next 3-4 years," he said.
A collaboration with Chinese online retailer Tmall has already helped the company, which first entered China at the end of 2012, grow its online cordless business by 725 percent last year, he said.
Nearly 90 percent of Dyson's technology is sold outside the United Kingdom, to 75 markets, allowing it to claim leading positions in the United States, Japan, Europe and Australia, and rapid growth across Asia, where air-quality concerns affect various countries.
Conze was speaking as a new survey revealed that 60 percent of Chinese people claim they are worried about air quality in public facilities and at work.
Compiled by Honeywell Inc, the US producer of a variety of commercial and consumer products, the China Indoor Air Quality Industry Association, and independent market research company Ipsos, the survey said about 50 percent of the respondents reported health issues among colleagues, friends, and family, due to polluted indoor air.
Nearly 80 percent of the 2,000 respondents from 10 cities across China said that while they consider household air purification an absolute necessity, many admitted to poor knowledge of air-cleaning technologies and products.
Dyson has committed 1 billion pounds ($1.55 billion) to the research and development of new product technology over the next four years.
It expects to launch 100 new products around the world, and Conze said much of that effort is being driven by its focus on China.