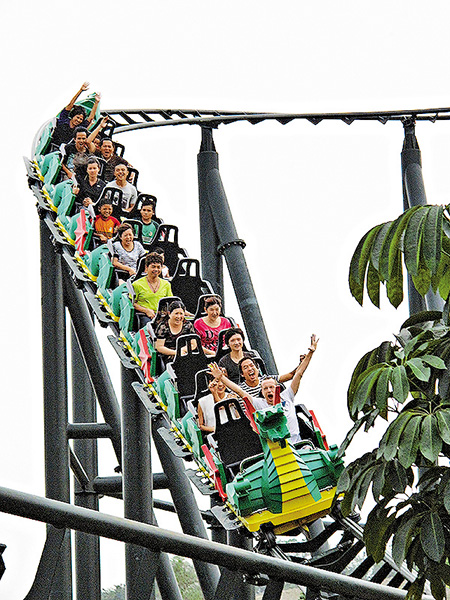 Visitors take a roller-coaster ride at Legoland in Johor, Malaysia. [Photo/China Daily]
Merlin Entertainments Plc, considered the world's second-biggest visitor attractions operator, has revealed plans to open an indoor Legoland amusement park in Shanghai.
The FTSE-100 company is launching the venture in partnership with Shanghai-based State-backed investment fund CMC Capital Partners.
The companies will be hoping the announcement might attract some attention away from the much-anticipated launch early next year of the giant Shanghai Disneyland in the city.
Merlin has 14 Legolands globally and claims its sites in California and Germany, for instance, attract 1.4 million visitors annually.
Asia's first Legoland was launched in Malaysia in 2012 and two more are scheduled to open their gates in South Korea and Japan in 2017 and 2021.
The world's first Legoland was built in Billund, Denmark, the home of the interlocking toy brick maker Lego Group after which it takes its name.
A 70 percent stake in the Legoland theme parks was sold to the United States private equity firm Blackstone Group LP in June 2005. Lego Group still retains a stake in the business.
Merlin already owns four Madame Tussauds in China and the Chang Feng Ocean World aquarium in Shanghai, as well as the London Eye and Alton Towers in the UK.
Three more of its attractions are to open in China in the next 18 months, including a Legoland Discovery Center in Shanghai, the ground-breaking ceremony for which was held late last month.
The new Legoland park will be targeted at families with children aged between three and 10.
Established in 2009, CMC has expanded fast in the entertainment and cultural industries.
It announced a joint venture-Flagship Entertainment Group Ltd-with Warner Bros Entertainment Inc on Sept 20, two days ahead of Xi's state visit to the United States.
Together with DreamWorks Animation SKG Inc, CMC also founded Oriental DreamWorks in 2012 to produce Chinese-themed animated and live action films, and related merchandise for distribution within China and globally.
It has already produced a number of record-making TV programs, including the talent show The Voice of China. It completed its first round of fundraising of $350 million in May.
Li Ruigang, CMC's founder and chairman, said in an earlier interview that it focused investment on three major areas: Media and entertainment industries which are more content-oriented, Internet and mobile communications which are more platform-oriented, and lifestyle.