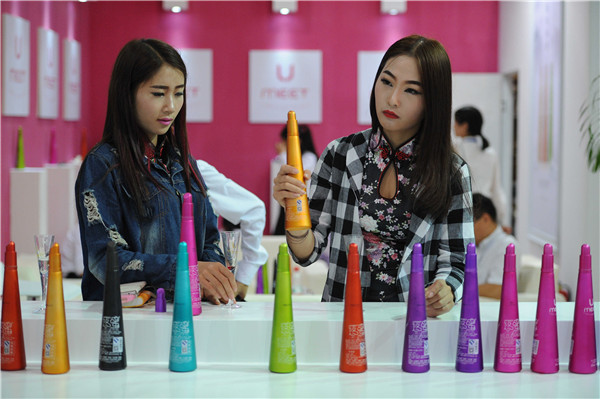 U MEET, an alcoholic drink series for women, unveiled by Kweichow Moutai Co Ltd in Guiyang, Guizhou province. The company expects the new beverage will generate about 1 billion yuan ($156 million) to 1.5 billion yuan in revenue in three years. [Photo/CFP]
In a move to boost sales, leading alcoholic beverage businesses are targeting the women's market in China, report Wang Zhuoqiong in Beijing and Yang Jun in Guiyang.
Sandy Xia enjoys a glass of wine when having lunch with friends. In the evening, she has the occasional beer and one or two cocktails at the weekend.
With a busy business schedule, the 32-year-old marketing manager at a logistics company in Beijing is constantly on the go.
"Having a healthy portion of alcohol helps me relax. I enjoy having a drink when I mix with friends, and we often talk about various wines and spirits," she said.
Xia is just the sort of middle-class professional woman that major beverage companies are looking to target to prop up falling sales after the government launched its anti-corruption campaign at the end of 2012.
Since then, the fallout has affected the luxury goods industry as well as the alcoholic drinks sector. In a move to boost sales, China's leading baijiu producer Kweichow Moutai Co Ltd has rolled a new drink for women customers.
U MEET comes in an elegant, elongated perfume-style bottle and is mixed with high-grade liquor from Moutai and natural blueberry juice.
Yuan Renguo, chairman of the group, has predicted that sales revenue from U MEET will be between 1 billion yuan ($156 million) to 1.5 billion yuan in three years. Moutai is banking on its highly successful brand name to stimulate growth.
With a female population of about 630 million in China, leading beverage companies are hoping to tempt women consumers in the 18 to 59 age group, which makes up 60 percent of the overall total. U MEET, for example, comes in nine colors and will retail at 48 yuan a bottle. It is expected to become popular with the younger generation that love trendy nightclubs.
But Moutai, which is famous for producing baijiu, which is made from a mixture of grains including rice, wheat and corn, faces tough competition in a crowded marketplace.
Global player Diageo Plc has always had a major presence in the sector with the company's Baileys brand, popular with women drinkers. The multinational alcoholic beverages group from the United Kingdom is expanding distribution of Baileys, an Irish whiskey and cream-based liqueur, through e-commerce platforms and convenience stores.
"We have also updated the bottle size for Baileys from 750 milliliters to a smaller size, so female customers will find it easy to carry and share with friends at parties or at picnics," said Tang Wu, Diageo's brand communications public relations manager.
In another strategic move, Baileys is now collaborating with Costa Coffee, a UK coffee chain, to develop a beverage named Cortado for the Chinese market.