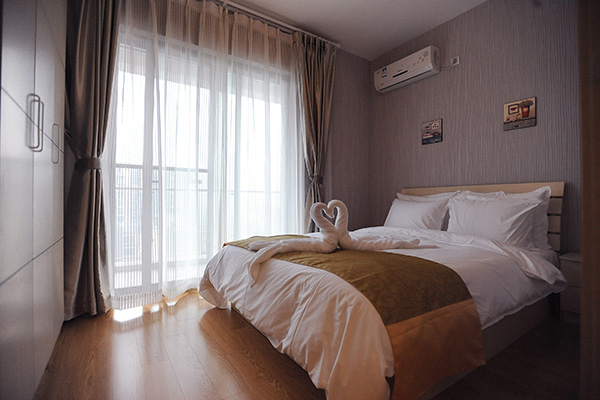 A double bed and other facilities in the bedroom of a serviced apartment in Chengdu, Sichuan province. Chinese property managers are sparing no effort to cater to their patrons' changing and increasing demands for varied services. [Photo provided to China Daily]
Thousands of new-age flats set to rise in metros and second-tier cities as demand explodes
Armed with no more than just two suitcases, 32-year-old Jean Simpsons, an account manager with a multinational bank, relocated from Shanghai to Hangzhou, some 100 kilometers away, in late August. No furniture, no household appliances, no paraphernalia that typically mark a relocation.
She could do so because in Hangzhou, she moved into a serviced apartment that obviates the need to shift bag and baggage.
Thanks to the advent of serviced apartments, Simpsons and many of her ilk are able to relocate from one place to another in China with ease these days.
Such apartments are fast rising in metros and even second-tier cities. The demand for, and the popularity of, serviced apartments is illustrated by the fact that by August this year, more than 20 properties of serviced apartments were added to the realty markets in Shanghai, Shenzhen, Chengdu, Suzhou and Wuxi.
Such demand has been fuelled by more and more employers with operations in multiple centers. Multi-center operations these days necessitate shift of human resources across places. For instance, Simpsons had to relocate after being included in a staff rotation program for management trainees.
Her Hangzhou flat was her third place of dwelling within a year. And all three were newly developed serviced apartments.
"Moving from one place to another could be a headache if you have to deal with renting a place to live and getting furniture and home appliances. The serviced apartment my employer offered is such a nice part of the welfare package that it dispelled my fear of relocation," said Simpsons.
Reasons for the popularity of serviced apartments are not far to seek. Market insiders said serviced apartments fill in the gap between residences on lease and hotel rooms by offering value-added services to tenants.
That's not all. Increasing number of young professionals and senior expatriates alike work across China these days. Their expressed need is for independent residential spaces complete in all respects, with some bonus services thrown in.
The flurry of relocations among the working class, which is spawning a boom in serviced apartments, can be traced to brisk growth of regional economic hubs in recent years. For instance, Shanghai, Beijing and Guangzhou have seen emergence and rapid expansion of the services sector.
According to John Wong, manager with Lanson Place Hospitality Management Limited, financial services, trade and legal services have exploded on the scene like never before, creating unprecedented demand for decent residences from professionals. To meet such demand, Lanson Place has just opened a new property of serviced apartments in Shanghai.