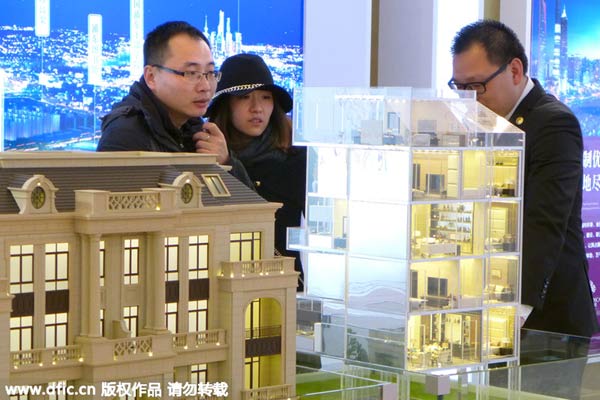 Chinese homebuyers look at models of residential apartment buildings during a real estate fair in Shanghai, Dec 13, 2014. [Photo/IC]
China on Wednesday said it will cut the minimum down payment level for first-time home buyers in many cities, stepping up support for the sluggish property market and stumbling economy.
It was the second measure in two days intended to fire up consumption, following a government decision to halve the tax on the sale of small cars.
The central bank and banking regulator said they would be lowering minimum down payments for first-time home buyers to 25 percent, from the previous 30 percent, in cities that do not have restrictions on purchases.
The move is intended to "support reasonable consumption of housing", the People's Bank of China and the China Banking Regulatory Commission said in a statement on the central bank's website on Wednesday.
China's property sector has hit a weak patch in the past year or so, with slowing sales leading to an overhang of unsold apartments and affecting demand for everything from steel to home appliances and furniture.
"The relaxed rule is helpful, but the impact will not be immediate because the main reason for high inventory in some cities is bad location and transportation," said David Ji, the greater China head of research and consulting at Knight Frank.
"The new rule will likely stimulate demand from buyers who are already observing on the sidelines and help them to get into the market," Ji added.
The property sector accounts for 15 percent of China's gross domestic product, so even modest signs of improvement would relieve some pressure on the economy, which is expected to expand this year at its slowest pace in a quarter of a century.
Home prices rose for the fourth consecutive month in August as sales and market sentiment improved, a rare bright spot in an otherwise gloomy economic outlook.
Analysts do not expect a full-blown turnaround in the property market anytime soon, since the huge number of unsold homes discourages construction and investment in all but the biggest cities.
While home sales and prices have picked up in the last couple of months, annual growth in property investment in the first eight months of the year slowed to 3.5 percent, while new construction starts plunged by nearly 17 percent.
Wednesday's move is the latest step aimed at supporting a sector seen as pivotal to economic growth.
The lower down payment requirements will not apply in certain big cities, such as Beijing, Shanghai and Shenzhen, that have imposed restrictions on buying to prevent bubbles.