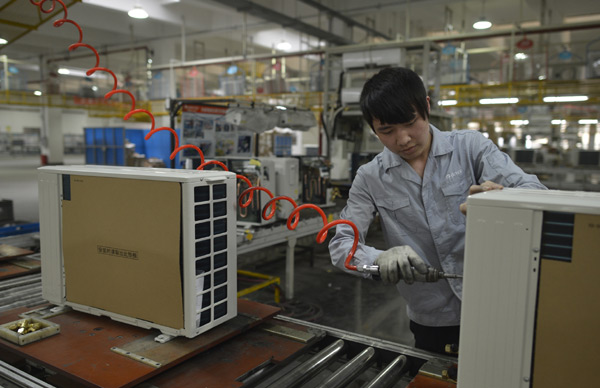 A worker produces an air conditioner on April 18, 2013 at a Gree factory in Wuhan, Hubei province. [Shepherd Zhou/Asianewsphoto]
Gree Electric Appliances Inc, China's leading air conditioner manufacturer, has reported a fall in revenue for the first time in six years.
According to its mid-year financial report, Gree saw a 13.4-percent year-on-year slump in revenue to 50.11 billion yuan ($7.87 billion) over the six months ending June. Its net profit attributable to shareholders rose 0.5 percent to 5.72 billion yuan.
Despite the slowdown, company president Dong Mingzhu earlier vowed to develop more electronic products related to smart-home appliances.
To sell more self-developed smartphones is among its latest moves, as the company is expected to combine its traditional appliances business with Internet Plus initiatives.
Revenue generated by Gree's air conditioner business dropped 17.2 percent in the first half of this year, according to the results.
Slowing sales growth and a price war caused by fierce competition are the main reasons behind the slump, said analysts.
Seven of the top 10 shareholders in the company underweighted holdings by a combined 100 million shares, equivalent to 3.4 percent of circulating shares, according to the report.
Gree closed at 16.12 yuan per share on Monday, up 0.2 percent. Its shares have lost more than 12.6 percent since September.