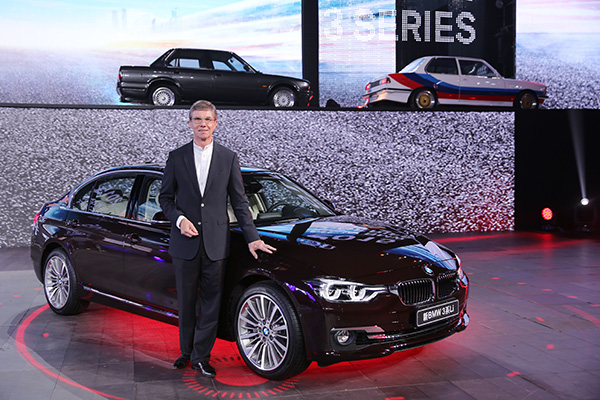 BMW Brilliance President and CEO Olaf Kastner delivers a speech during the BMW 3 series National Launch event in Shenyang, Liaoning province, Sept 24. [Photo provided to China Daily]
The new BMW 3 Series hit the market on Sept 24 in Shenyang, the capital of Liaoning province and a manufacturing center of BMW in China.
As a leader in the sporty sedan segment of the global premium car family, the BMW 3 Series made its global debut of its upgraded version in May. The fresh new facelift featuring impressive and sleek design as well as improved equipment have lifted the series' competence.
BMW Brilliance President and CEO Olaf Kastner said: "The new 3 Series' sales volume grew by nearly 10 percent and has proved to be very attractive to Chinese customers. The upgraded models will at least keep up the sales pace, if not sell even faster. I am positive the car will be successful in the market and we will gain more customers."
Data showed that the Chinese premium car market expanded by more than 5 percent in the first half of this year, lower than the figure of 10 percent last year, while sales of passenger cars increased by 2.6 percent in the first eight months to 12.8 million units.
Kastner said, "The 3 Series is a car the young generation desires, because it's sporty and is a real BMW.
"We bring emotion and state-of-the-art technology together, which works well and customers are very keen to drive such a car."
The new BMW 3 Series has inherited the 40-year-old series' traditional philosophy to uphold the sporting spirit and remain committed to introducing innovative and enriched design to boost its "personality and sporty nature".
The new BMW 3 Series also hopes to bring more driving pleasure and premium quality to Chinese customers, the carmaker said.
Kastner said: "We introduced both standard and long wheelbase versions. Now, around 70 percent of the cars sold are long wheelbase versions. It shows that the customers have fully accepted and embraced the concept. It has a bit more room for family, for friends."
To date, sales of the sixth generation of the BMW 3 Series has doubled the sales of the fourth and fifth generations combined in China. Last year, the BMW 3 Series hit a historical record of 100,000 sales in China, "a remarkable achievement", Kastner noted.
Twelve years ago, the BMW 3 Series' production in Liaoning province kicked off a new chapter of the carmakers' localization in China. In 2012, the company took the lead in China to promote its long wheelbase strategy, which is only offered to Chinese customers.
This year marks the 40th anniversary of the BMW 3 Series. The BMW 3 Series is a success story of the carmaker's localization strategy. More than 14 million of the new BMW 3 Series models have been rolled out on production lines around the world.